With all the attention paid to the bride's attire, hair, makeup, and accessories, you might forget that someone else is sharing the spotlight, too. Don't let the groom look anything less than perfect himself! Here are some expert styling tips from InStyle Wedding, to help the groom look his best!
Formal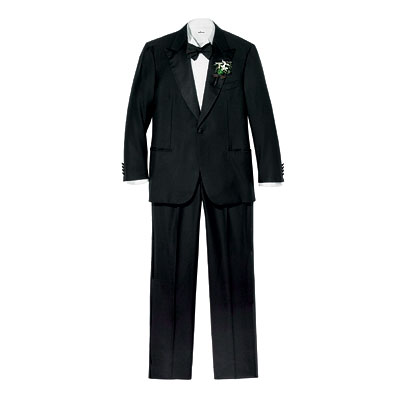 Shirt: A formal button-front shirt should be white or cream. No ruffles!
Jacket: Single-breasted, single-button jackets are timeless for a good reason—they'll make his his waist look trim and his shoulders broad.
Pants: Make sure they are properly tailored; then there's no need for suspenders or a cummerbund.
Bow tie: A bow tie is essential—a real one, not a clip-on.
Traditional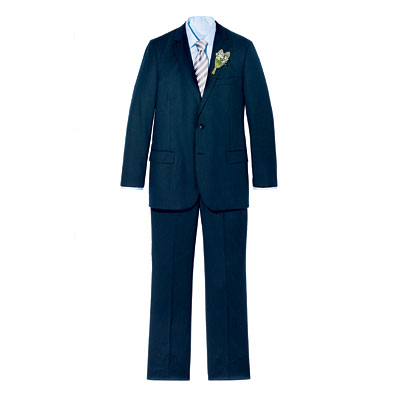 Jacket: The sleeves should hit at the wrist bones, with shirt cuffs peeking out about half an inch.
Pants: The cleaner the lines, the more flattering the suit. That means avoiding pleats (which add bulk) and cuffed pants.
Shirt:  The classic suit looks best when worn with a shirt in a subtle shade like baby blue or lavender.  It should be woven in fine cotton or broadcloth, not oxford, which is too informal.
Tie: A vivid tie is fine for the office, but not down the aisle. Choose a solid or tonal wide-stripe version instead.
Trendy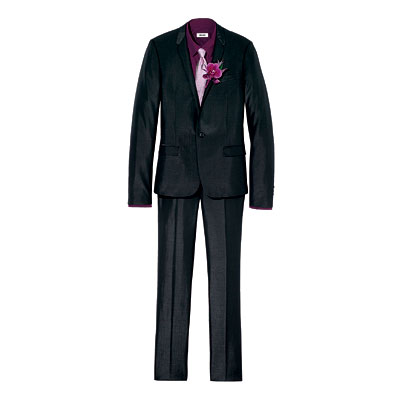 Suit: A skinny suit should be just that—skinny. That means tapered pants; a slim, one-button jacket; and no shoulder padding.
Shirt: All-black looks cool, but it's too melancholy for a wedding. Introduce color with a dark hue like plum or forest green.
Tie: Narrow lapels demand an equally slender tie with a small knot, nothing wider than a half Windsor.
Accessories: The right accessories are key to pulling together a trendy outfit. Let him show off his personality with his tie, watch and shoes.
Casual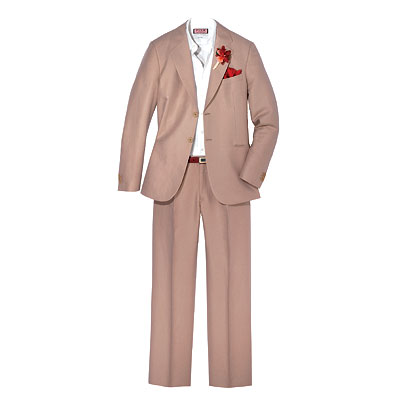 Suit: A cotton- or linen-blend suit in tan or cream with a crisp white shirt is appropriate for the beach, but still refined.
Tie-less: Have him leave his tie at home; a pocket square is a laid-back alternative, and my come in handy if you're outdoors.
Shoes: Dressed-up leather flip-flops can be kicked off with ease. Sockless loafers are another casual option.
Accessories: Treat sunglasses as part of the ensemble. He can sport anything from Wayfarers to aviators. Remind him to put them away during the vows.