We all know it's hard to find cool, meaningful, useful gifts for the guys in your life. Ties and watches are always nice, but how many does a guy need, already? If you're looking for a gift for the man-who's-hard-to-please, or the guy-who's-got-everything, we have an amazing array of gift ideas from AmericanBridal for you!
*
*
For the man who likes to celebrate outdoors, this brilliant bag is, quite simply, a portable party! Snacks and music go, great if you're planning a beach or destination wedding, pool party rehearsal dinner or picnic engagement party!
Removable speaker panel, a battery-powered amplifier, a Velcro pocket for a standard-size mp3 player, a detachable jack, an adjustable shoulder strap, a top carry handle, a front zippered pocket, and an inner insulated cooler compartment, PLUS free embroidered initials, all for $49.95. Get it now!
This is the perfect gift for any guy who is master of the grill. It's fabulous for tailgating, camping, or heavy-duty picnicking.
This roomy cooler bag features: a front zippered pocket with a stainless steel grill brush, a spatula, and tongs; back zippered pocket holds a large tablecloth. Add on free personalization of your groomsmen's initials or monograms, all for $62.95. Get it now!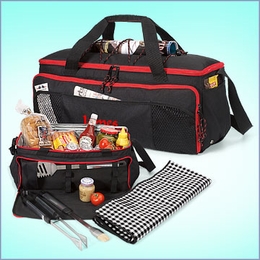 Practical yet sentimental! This thoughtful men's gift is a handsome valet tray where you can tuck in a photo to remind him of the good times you've shared! Personalized with his initials, this dresser set becomes a keepsake he'll treasure as the years go by.
Black leatherette, with white topstitching and black velvet lining, four compartments, and photo box lid keep accessories and favorite memories safe. Free silver-plate personalization! Only $43.20. Get it now!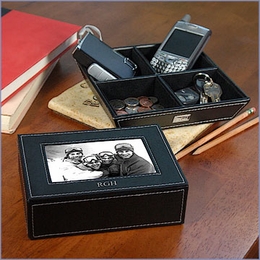 Whether your groomsmen wears wingtip or laydown tuxedo shirts, these initialed classic brush silver square cufflinks will please your guy… and the ladies. Only $26.95. Get them now!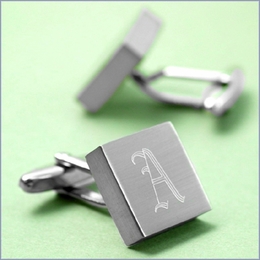 Now it's foosball time all the time! You can play a little game wherever you go (just not during the ceremony!)…  Get your groomsmen hooked!
Miniature, portable, travel size Personalized Mini Foosball Game Set is made of silvertone metal and brass colored metal a features a replica of a real foosball game table complete with 2 sets of team players and 2 silvertone metallic balls. Free personalization up to 20 characters. Only $22.95! Get yours now!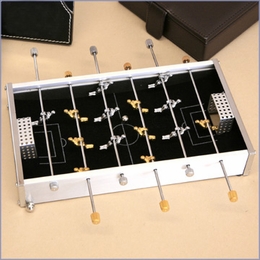 Add a dose of team pride to your groomsmen's game rooms with these impressive Personalized NFL Wall Clocks! Proudly made in the USA, these colorful NFL wall clocks feature genuine quartz movement. Available in 32 teams, these clocks may be personalized with up to 2 lines of 12 characters each. Only $28.95! Get it here!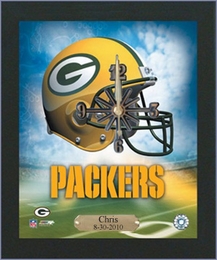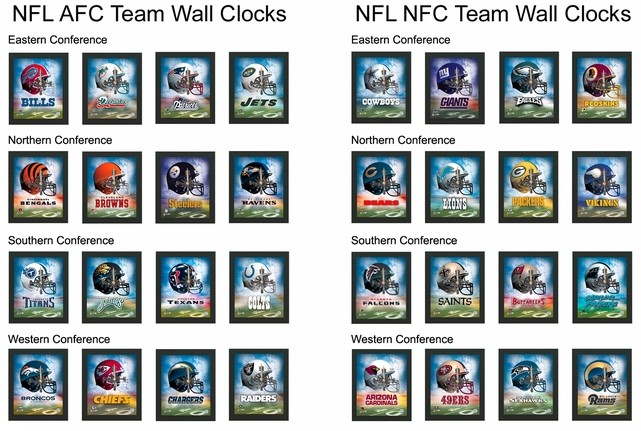 A handy-dandy gift for the man on the move. Especially apropos if you're having a destination wedding. The handsome aluminum carrying case contains a razor, spare razon blades, small and large nail clipper, shaver, file, cuticle cutter, cuticle cleaner, and tweezer. Only $38.95! Get it now!
This silver pocket all-in-one-tool gets back to the basics with stuff they'll need for the great outdoors and regular, everyday pursuits. It includes needle-nose pliers, wire cutters, large/medium/small flat screwdrivers, clip-point knife, phillips screwdriver, bottle/can opener, fish scale, and saw. Pocketknife can be engraved with up to 12 characters, plus a nylon carrying case. Only $15.95. Get it now!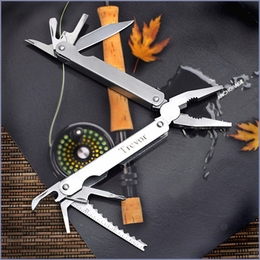 This attractive business card case thanks the professionals in your wedding party with distinctive style. No more lost or crumpled business cards! Sturdy chrome with a brown leather overlay, contrast stitching, and free engraving. Only $21.95. Get it now!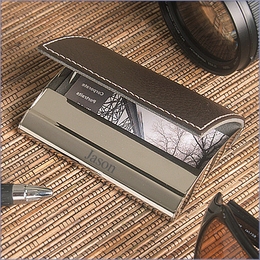 This exquisite reproduction of Rodin's famous sculpture, "The Thinker" is attached to a heavyweight base with a pen rest. Doubles as a paperweight. Sure to be the centerpiece of any office, this attractive statuette complements modern and traditional décor for a stunning effect. Only $35.95. Get it now!