Tradition is a wonderful thing, but there's nothing wrong with having a little fun at the same time! Here are some great ideas for keeping wedding customs fresh!
*
*
*
*
*
*
*
*
All photos from Martha Stewart Wedding
Twist on Something Old: Here's a great idea! An heirloom brooch takes on a new life when you attach it to a wide piece of ribbon and wearing it as a cuff!  (Brooch, General Whimsy)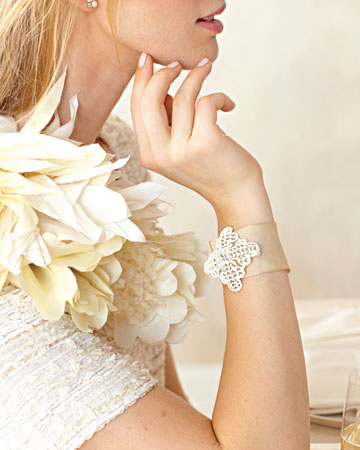 Twist on Something New: Not everything needs to be tangible. Mark your special day with a fragrance you've never worn before. Do try it out though before the wedding to be sure you like it! (pictured: Hermes Poivre Samarcande)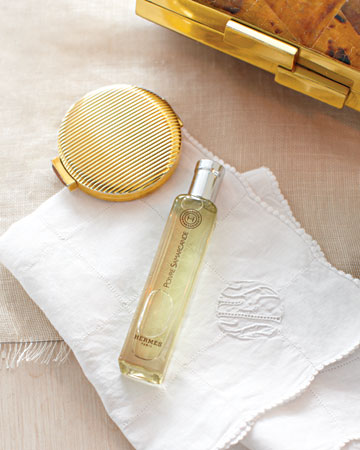 Twist on Something Borrowed: For wedding-day memorabilia, brides traditionally look to their mothers and grandmothers. This time, let Dad or Grandpa have his moment by wrapping a bow tie around the base of your bouquet.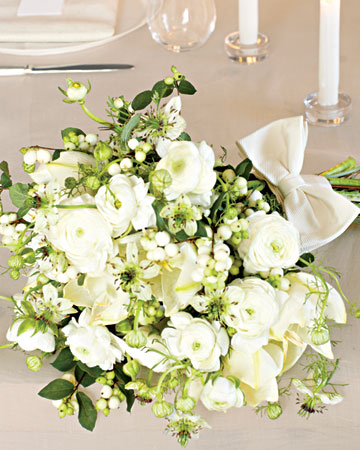 Twist on Something Blue: These shoes have all the classic bridal markings — white satin, decorative bow, peep toe — but the sole is a vivid aqua. (Pour La Victoire "Stella" shoes from Zappos.com)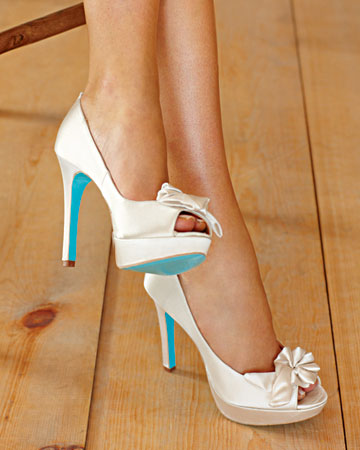 A Twist on Centerpieces: Rather than an explosion of flowers, consider a sculptural arrangement of veneer figure eights. On this table they are interspersed with stemless wineglasses and tall taper candles.  (Design Your Wall white contact paper. Northern Sheer Veneer birch veneer. Riedel wineglasses.)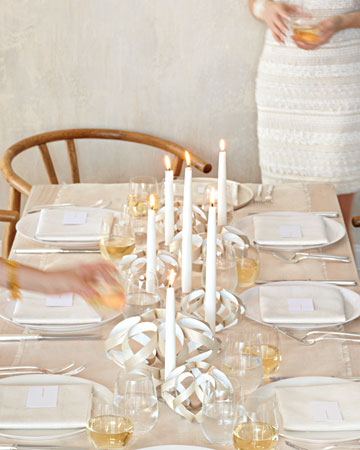 Twist on Wedding Favors: Rather than doling out chocolates and picture frames, some couples designate that portion of the budget to charity, and make a donation on behalf of their guests. Many nonprofits have programs in place to accept this kind of contribution, which gets you a tax write-off as well as a good deed. Then, you get printed cards to distribute to guests stating that a gift has been made. Another idea for an environmentally-friendly wedding is to give guests sappling from the Arbor Day Foundation to take home and plant.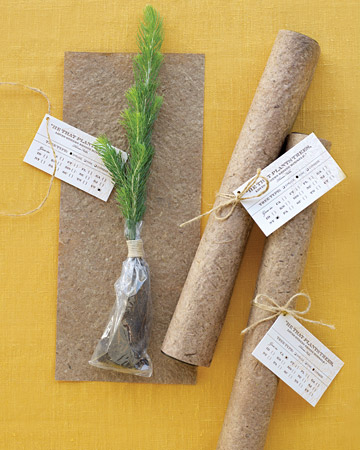 Twist on a Guest Book: Rather than an album of well-wishes, how about turning on your computer to watch your guests in action! Reserve a corner of your wedding venue for a video photo booth: Set up a digital camcorder, leave a movie clapper and dry-erase pens for guests to write their names and messages, and let them talk a blue streak. For a seamless background, hang a large white piece of fabric or paper.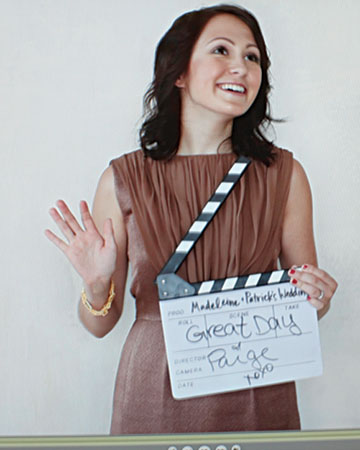 Twists on a Wedding Cake: In place of a towering frosted confection, you can serve just about anything that pleases you… cupcakes, candy bars, or something like this irresistible all-white dessert buffet. Lemon-cream sandwich cookies, Ricotta-filled pizzelles, Toasted-marshmallow milkshakes, coconut macaroons, Pavlovas with cream and white currants, Angel food roulade with salted caramel cream, Mini panna cotta tarts, Crossings calissons (800-209-6141), Mini rum Bundt cakes, Arnold's Candies pillow mints (groovycandies.com) in Plastic Container City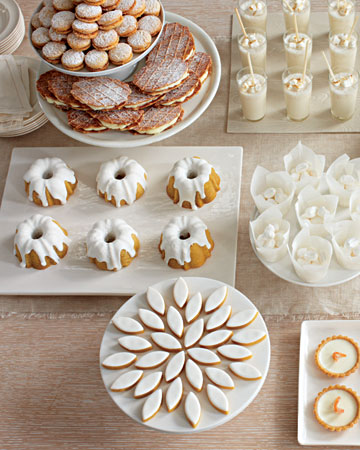 Twist on the Decorated Getaway Car: Turn the tables on your guests!  Have valets decorate their cars during the reception. For example, you might surprise them with a memento tied to the rearview mirror, such as a card thanking them for coming, or a sachet of potpourri.