When looking for real-life inspiration for your wedding hairstyle, there are always the stars of Hollywood to turn to! Beautiful and always well-groomed, these leading ladies lead the way when it comes to hairstyles worth imitating. These do's will have you all ready to walk down the red carpet– and definitely down the isle!
*
Photos from In Style Weddings.
*
Jessica Alba's stylist Robert Ramos diffused her hair to coax out its natural wave, parted it in the middle and and French-braided sections on both sides. He made smaller plaits from her bottom layer of hair, wrapping them back toward the center and pinning them. The braids are intertwined at the back of her head.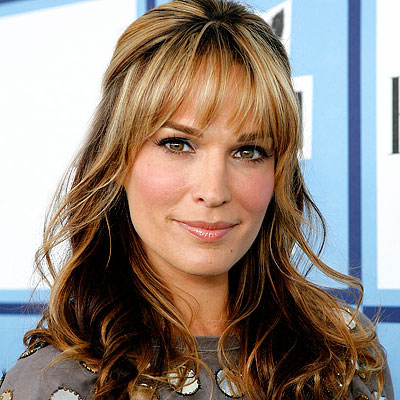 Molly Sims sports a modern take on a '60s style.  To achieve this effect, L.A. stylist Frank Galasso washed Sims's hair with a voluminizing shampoo, followed by a bodybuilding mousse on the roots. He blew her hair straight with a round brush and then used a 1″ curling iron to create loose waves. He pulled the sides into a small ponytail and pinned a thin section of hair around the elastic to conceal it.
Evangeline Lilly wears her hair down in romantic waves. Her stylist Patrick Gagaille straightened her just-washed hair with a blow dryer and a round brush. Next, he curled small sections of hair with a 1″ curling iron—leaving the roots flat and only styling the lower half of the hair. He sprayed each section with Catwalk Curls Rock Curl Booster for hold and applied a quarter-size amount of Davines Natural Wax to his hands, working it through from root to tip. He completed the look with a shot of Sebastian Shaper Hairspray.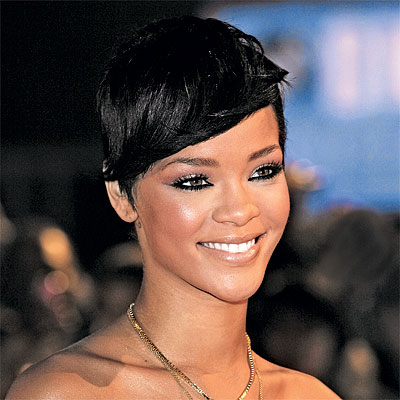 For a dramatic look for shorter hair, take a cue from Rihanna. The key to this look, says N.Y.C. stylist Ursula Stephen, is all in the cut: heavy, side-swept bangs bring length to the front, while the back and sides are left short. Stephen blow-dried Rihanna's just-washed hair, combing and flat-ironing her bangs to one side. To create a piecey look in front, Stephen applied Pantene Pro-V Texturize Spray Wax with her fingers styled the look to give it a rocker vibe. Stephen adds that a long veil  can overwhelm short hair. A vintage pillbox hat with netting is the perfect complement to this cut.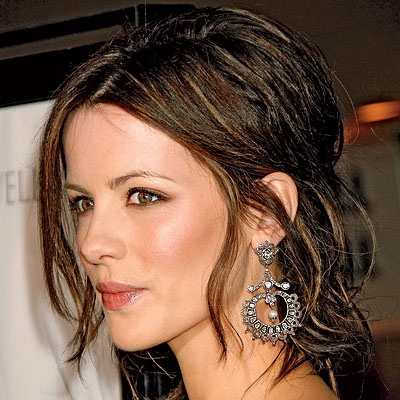 Kate Beckinsale wears her hair in a disheveled chignon, walking the line between edgy and elegant. Abergel gave Beckinsale a center part, spraying Frederic Fekkai Coiff Shape & Set Mist onto the roots to add texture. After blow-drying her hair, he used a 2-inch FHI curling iron to twist pieces at random. Next he teased at the crown to build height and gathered it into a low, messy bun, finishing the look with Frederic Fekkai Glossing Sheer Shine Mist.
Keri Russell wears a classic, yet softened, twist: "Pulling the hair straight back can look harsh," says L.A. stylist Hallie Bowman, who relaxed Russell's natural curls with Karastase Curl-Relaxing Nutri-Sculpt Mousse before blowing them dry. She then curled the hair with a half-inch iron, adding volume at the top and separating curls with Kiehl's Malleable Molding Paste. She then gathered the hair loosely and pinned it into a French twist, setting the style with firm-hold hairspray.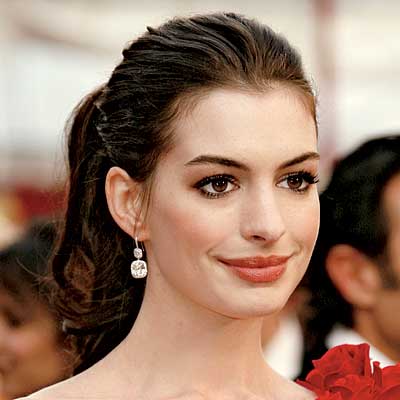 Here we have a perfectly dressed-up ponytail on Anne Hathaway. Danilo's advice is to position it no higher than the crown of the head for a clean silhouette. He backcombed Hathaway's hair for volume, smoothed the top and sides into a ponytail, and secured it with an elastic. He wrapped a small section of hair around the ponytail's base for a seamless finish. Then he smoothed flyaways and sealed the look with medium-hold hairspray.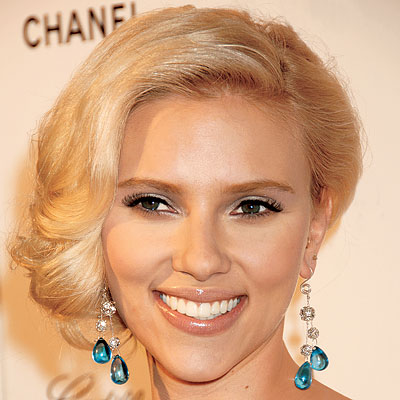 This glamerous do is worn by Scarlett Johansson, who had shoulder-length hair. David Babaii started by spritzing David Babaii for Wildaid Bohemian Beach Spray on the roots before he curled her hair into allover ringlets. Next, he backcombed the hair, diminishing the tight curls but keeping the body, and swept it across the nape of the neck to one side. Freeing a 2-inch section of hair in the front, he secured the rest with bobby pins. Babaii shaped the loose hair into a few big waves with a 1-inch curling iron, using a firm hold hairspray to set.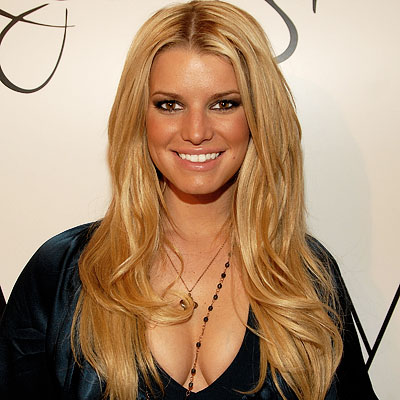 To get Jessica Simpson's modern blowout with body, stylist Ken Paves blow-dried her hair using a round brush. After attaching Clip-In Extensions to the back of her head for more length, he curled 3-inch sections of hair from the mid-shaft to the ends with a one-and-a-half-inch iron, twisting away from the face and down at a 45 degree angle to create loose waves. He finished by applying a shine serum to the ends and a shot of hairspray all over to contol flyaways.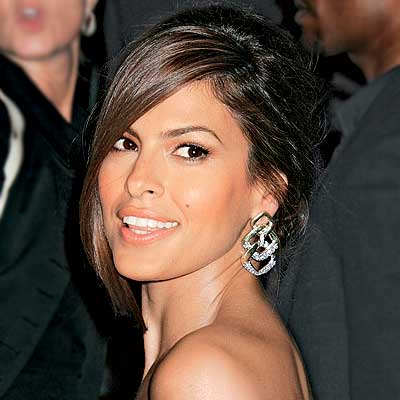 Eva Mendes wears a low-riding ponytail, elegantly balanced with volume at the crown. N.Y.C hairstylist Giannandrea blow-dried her hair and wrapped it around Velcro rollers. Afert releasing, he side parted the hair to create bangs, brushing the rest into a ponytail. He then teased sections with hairspray, anchoring them with bobby pins.
Visit In Style Weddings for more celebrity hairstyles you can adapt for your wedding!
See also Wedding Hairstyles Inspired by your Favorite Celebrities (Part 1)