Wedding cakes are pretty, but can cost a pretty penny too, so here are a few ideas on how to cut costs but not sacrifice style. Martha Stewart Weddings has some brilliant ideas on how to create your own wedding cake, or turn a less expensive store-bought cake into a masterpiece. Best of all, none of these examples requires any great artistic ability!
Pipe your own Roses
Just about anyone can reproduce these bright, happy rose confections! Start with a plain fondant cake from a bakery. Next, print out
this abstract rose template
(with recipe for icing and complete instructions), place parchment paper over it, and trace with a piping bag. Once dry, peel the paper off the roses, and adhere the designs to the cake using gum paste that's been mixed with hot water.
Frozen Delights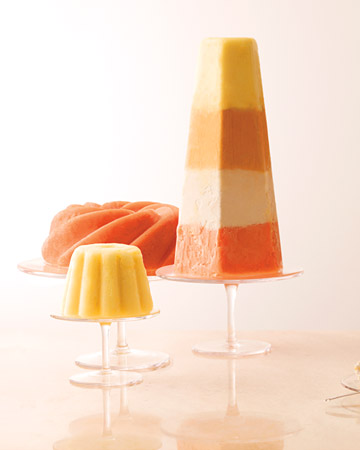 All you'll need to create these delightful sorbet bombes is a mixer to soften the sorbet and a metal container (such as cake molds or a vase). Once the sorbet is smooth in consistency, spoon it into the containers (for visual flair, layer different flavors), and freeze overnight. At your wedding, just slice and serve! Lemon, peach, coconut, and pink-grapefruit sorbets are showcased here. You can easily substitute ice cream!
Lemon Icebox Wedding Cake
Isn't this pretty? It's made out of scalloped lemon cookies and honey mascarpone cream. Just build it from the bottom up and top with candied lemon slices for a tangy-sweet cookie-cake treat! (These cookies were made from scratch, but store-bought ones work just as well; try Moravian Meyer lemon cookies, Salem Baking Co.)
Crushed-Candy Wedding Cake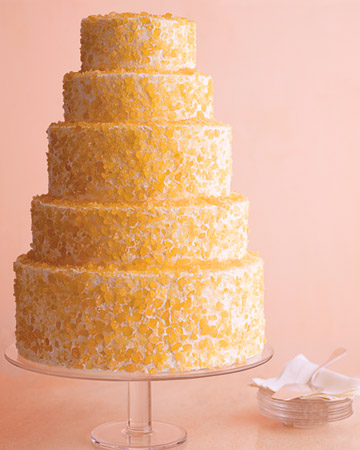 I love the look of this sparkling marmalade-candy cake, and it's as easy to decorate as this: buy your favorite hard candies, place them in a large resealable plastic bag, get a hammer or a rolling pin, and pound away! Then press the glittering crushed pieces to the sides of a buttercream cake. (Orange hard candy, La Vie de La Vosgienne,
amazon.com
.)
Make this Crushed-Candy Cake
Mini Chocolate-Covered Wedding Cakes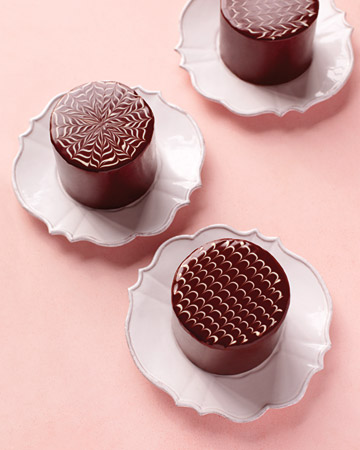 These look fabulously fancy, but they're practically fuss-free to make yourself!  The way you get that elegant design is by pouring a glaze over each cake and piping on lines or circles of melted white chocolate. (Perch the cakes on a wire rack so excess glaze doesn't pool.) Then gently drag a toothpick through the lines to create the pretty designs. Make these Chocolate-Swirl Cakes
Teardrop Design Wedding Cake
To create this whimsical design, you need to order up a fondant cake, plus a bucket of fondant, from a bakery. Add food coloring to the fondant to get your desired hue, and roll out into a thin sheet. Cut with various shaped cookie cutters, let dry, and attach to the front of the cake with gum paste mixed with hot water. (Teardrop cookie-cutter set, Ateco,
Sur La Table
.) 
How to Make the Tear Drops