Spring fashion– it doesn't have to be all about the flowers, but they're just so fresh and fun for an outdoor wedding, especially on your bridesmaids! We can't get enough of these bridesmaids dresses in floral prints or featuring other flowery elements… so much more exciting that having your girls all in one color, don't you think?
*
Feature photo from Fhiky
*
We like the bold black-and-white prints of these floral print dresses. You can do it in something floor-length like the Floral Print Dress Halter or try short and flirty like this Strapless Sweetheart dress.
These silky tea-length dresses are charming and demure, perfect for a garden-themed wedding! Dresses by Dessy Collection and Mori Lee Affairs.
These two dresses are from the modest collection by Landa Designs, for your beautiful, trendy bridesmaids who don't want to show too much skin!
Etsy is a great place to find floral dresses that are unique and fashion-forward. Many are one-of-a-kind, so you might want to mix-n-match different dresses that all have the same look. Hand-painted Silk Dress by TanjaDesign and Vintage Inspired Tea Length Dress by ellanacouture.
MORE IDEAS:
I love the way the guys' ties match the bridesmaids' dresses (via Flossy and Dossy):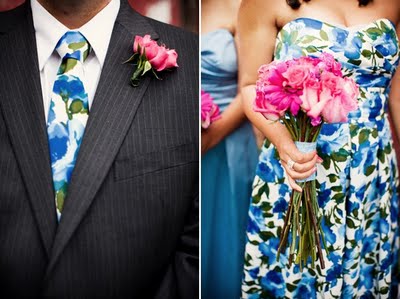 Random print dresses from Etsy with matching bouquets and ballet flats (via Our Blog of Love):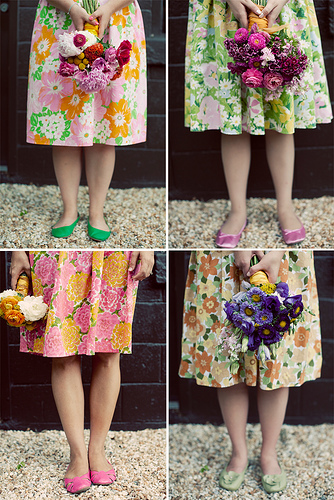 The mismatched dress fashion is definitely catching on! As long as they are all a similar style, it gives each girl a chance to show off  her own color preferences while maintaining a coherent look. (Photo from London Bride)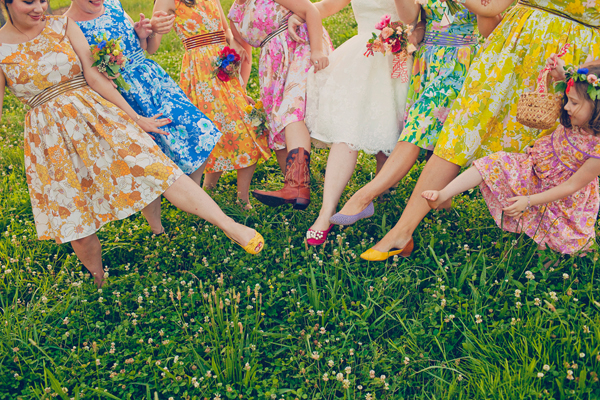 …Or keep the pattern the same for all dresses, and give the bridesmaids' freedom in choosing the length and cut of their dress (Elizabeth Ann Design)!