Upswept hair styles have long been favored among brides for their elegance, versatility, and ease. This style is low-maintenance and best reveals the bride's face, jewelry, and dress.
Your wedding-day hairstyle should flatter your face and also be in keeping with your overall look. A sleek, sculpted updo is more formal; a soft upsweep with a few loose tendrils is more romantic.
Have a good time playing around with hairdo's, either at home or with a stylist. Bring pictures of styles you like, and try them with your headpiece and veil.  Take photos of yourself from different angles so you can study them later on and decide which is the most flattering.  In order to feel comfortable in this new style, try to incorporate your every day look somehow– keep your bangs down or part your hair the same way your normally do.
Here are some beautiful looks to try out!
Top Knot: This style is formal, simple, and elegant. Hair is swept completely away from the face, so it's great for an outdoor wedding. In keeping with the look, makeup is graceful and subdued with creamy eye shadows in smoky hues.
Get the Look: Step-by-step instructions and make-up tips here!
Half and half: For this romantic look, consider flushed, glowing skin a requirement.
Get the look: Step-by-step instructions here!
Side Chignon:
Fresh, easy, coquettish, timeless. We especially love the combination of peekaboo bangs and bright-red lipstick!
Get the Look:
Step-by-step instructions and make-up tips
here!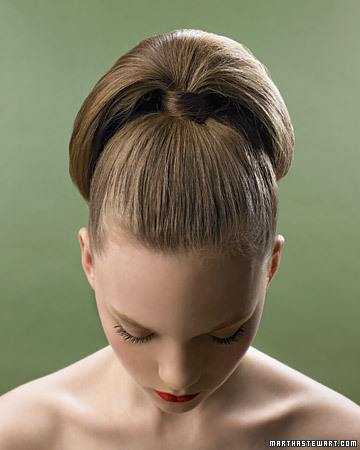 Polished Ponytail: A classic pony turns sophisticated with a neat tuck and a sleek twist. Instant transformation from schoolgirl to lady. More Bridal Hairstyles here!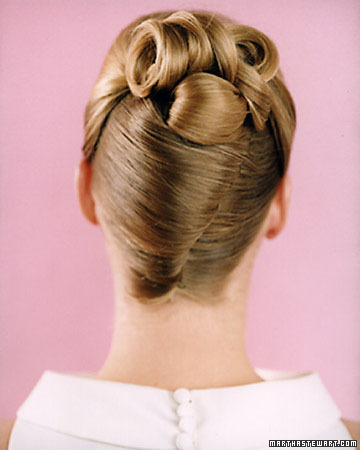 Classic Chignon:
Today's loose styles are arranged either high on the head or at the nape. Add pearl and diamante hairpins for sparkle. More
Bridal Hairstyles here!