One of today's greatest trends is recycling. The amazing and beautiful things that people create from old, cast-off items is astounding! From bottles and cans to old doors and windows, there are tons of ways to turn someone else's junk into your treasure!
image: Message in a bottle
Here's a super cute table number idea that was inspired by a restaurant that had something like it on their tables.  All you  need are some tin cans, paint, and a drill… Aren't they cute? Inexpensive, recycled, and they double as candle holders, too!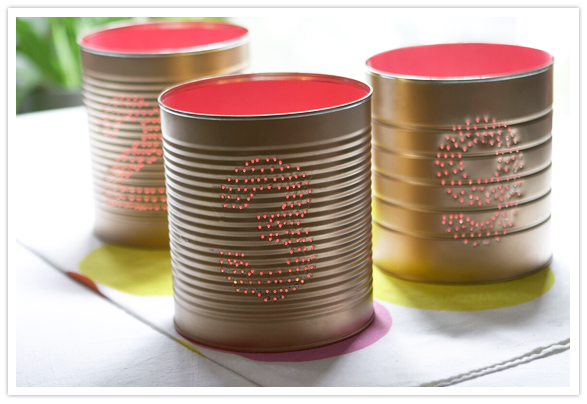 Over at 2000 Dollar Budget Wedding, they've created vases using recycled wine bottles.  These were inspired, in part, by the transparent, subtle quality of glass and the muted variety of colors found in wine bottles. You can find the how to here! Aren't they pretty?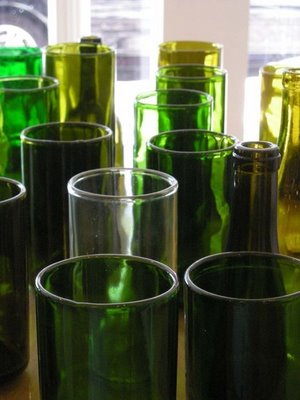 Here's a brilliant idea for a shabby chic garden wedding.  You can create lovely,one-of-a-kind napkins, table linens, and runners using vintage bedsheets!  Cheap, and best part: no sewing involved!  Simply cut them to size with pinking sheers. From A Backyard Wedding, via Intimate Weddings.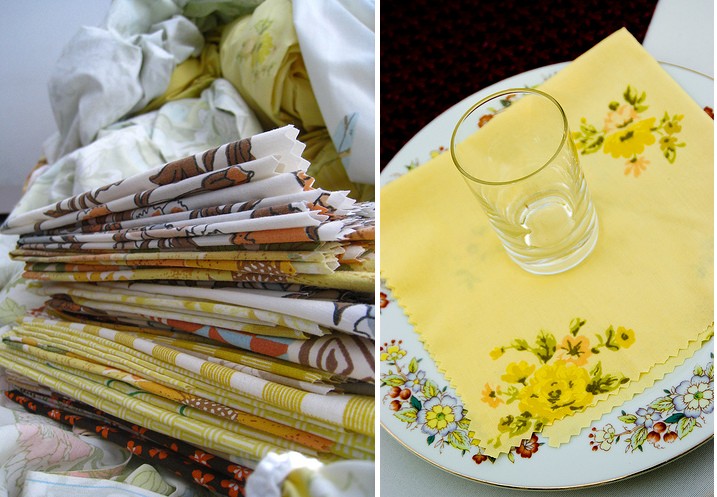 More ways of recycling cans… you can paint them or cover them with shiny contact paper, and use them to package edible wedding favors (get the how-to here!). Or you can just clean them thoroughly and leave as they are, tying some ribbon or raffia around the can and filling with flowers for a sweet centerpiece!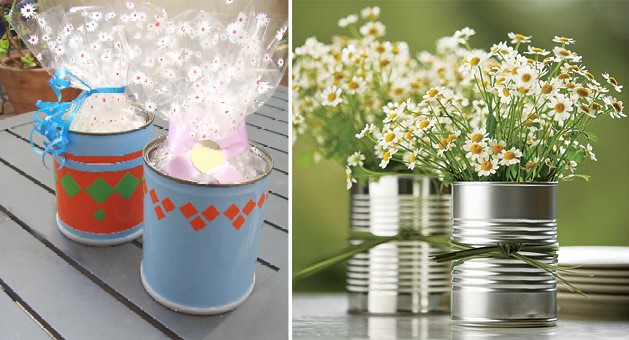 If you are truly eco-friendly, you can use your cans as planters, so that they plants can be taken home and re-planted in your (and your guests') backyards. At Project Wedding, they used these can planters as both centerpieces and favors!
One popular wedding reception decor idea is using old furniture pieces like shuttered windows, antique dressers, and coffee tables as part of a display. Think about the area you want to set out place cards, a buffet table, or vintage photo booth. This white glass window display, trimmed with a little greenery, pulls off the trend magnificently.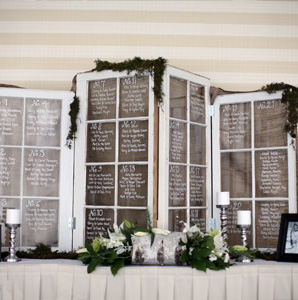 A similar idea was used by Candace and Jared, featured on Project Wedding: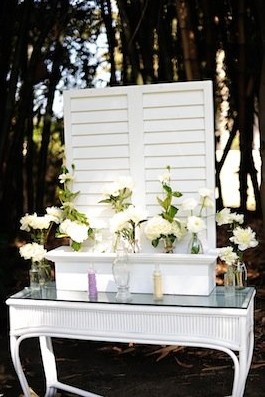 Using an old window to display photos of loved ones gives a new meaning to the words "window frame"! Photo from Weddings by Color:
An old door is a rustic choice for posting seating cards(photos from Libby James and Wedding by Color: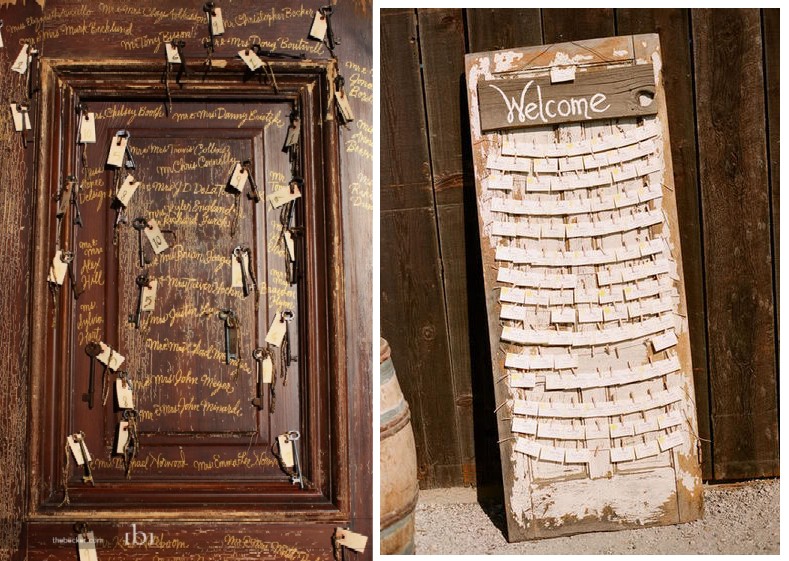 Another good use for vintage doors- they're too pretty not to do something with– is to set them up at entrance to the reception, like this whimsical garden themed wedding, where guests pass through, underneath a swarm of fluttering paper butterflies. Check out the other vintage furniture they used, including an old bed headboard and dresser. Photo from Lang Photographers via Ruffled.