When I hear pumpkin in a decorating sense, the first thing I think of is a grinning jack-o-lantern, which is probably not the Big Day look you're going for. So I was pleased to see that there are lots of  charming ways to incorporate this quintessential fall fruit into your wedding decor, and none are the least bit spooky!
photo from Better Homes and Gardens
Pumpkin Vases
The most common usage would be hollowing out your pumpkins to make vases. The orangy tones blend well with autumn flowers such as roses, daffodils, ranunculuses, calla lilies, tulips, and hypericum berries, as seen in this photo from Martha Stewart.  Notice the smaller pumpkins and  orange-glass votives which fill out the centerpiece.
I love this centerpiece too (found here), which consist of smaller pumpkins in a row down the center of your table, holding just a few blooms.  Tall, cream candles between each pumpkin lends height and interest.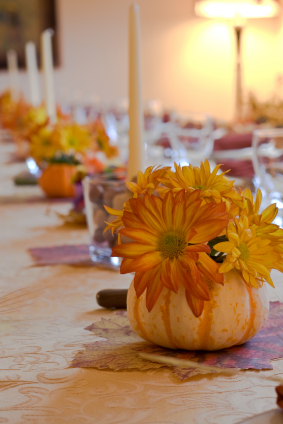 This pretty centerpiece is from Verill Farm. It sells for $35 or you could put together your own!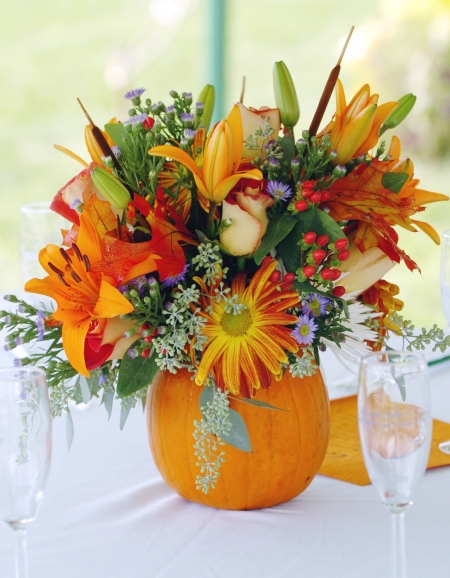 You can create a leaf bouquet instead of flowers for something different. They are accompanied by hand painted candle sticks from your local hobby store (image found here)!
Pumpkins on their Own
Grouping pumpkins in various sizes, shapes, and hues makes a striking presentation all on their own. This photo from Martha Stewart shows orange and cream pumpkins laid out on
a vivid orange table runner.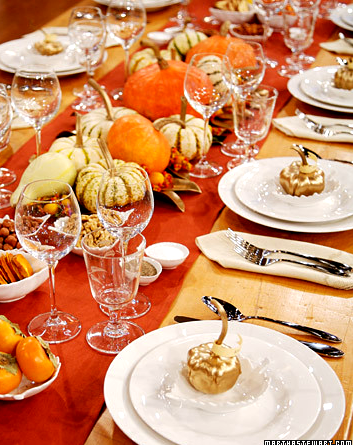 For a rustic, outdoor event, pile the tables with pumpkins and lay them at your feet too!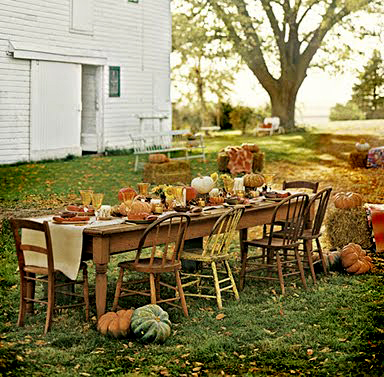 Don't forget that pumpkins come in other colors besides orange: Green, white, cream, and gold. Here white pumpkins add a subtle, elegant touch.
These miniature pumpkins are gorgeous arranged on a pedestal plate! Photo from American Greetings.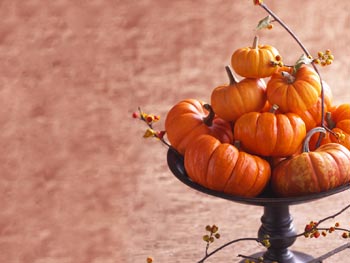 Pumpkins, Pedestals, and Urns

I wouldn't have put the two together, but I do like the look of playful majesty you get by combining pumpkins and urns, from Country Living!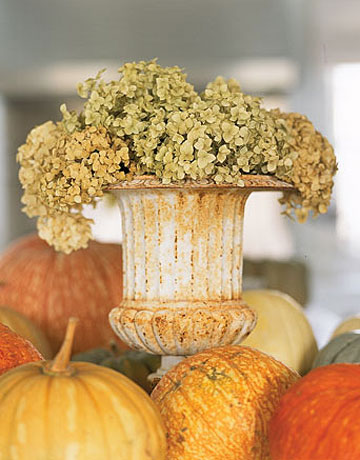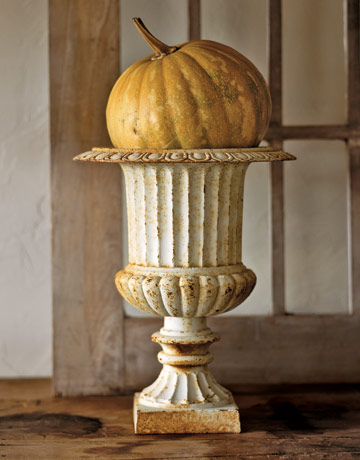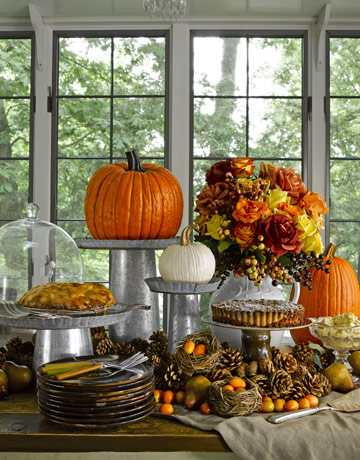 This photo, from Better Homes and Gardens, uses white pumpkins and white crockery for a soft yet stunning arrangement.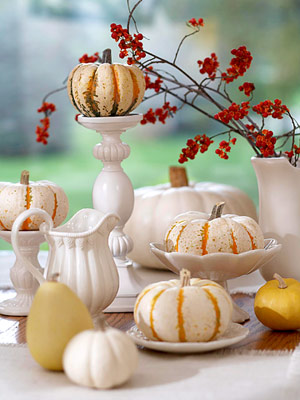 Carving Pumpkins
I'm still not going anywhere near the Halloween look! The carving I'm talking about is elegant, and mirrors your wedding decor. Try carving a design like these curlicues, inspired by the "Vermicelli" wallpaper from Farrow & Ball seen on the walls. The flesh was scooped out from an opening cut in the bottom, then the motif was inscribed with a linoleum cutter. From Country Living.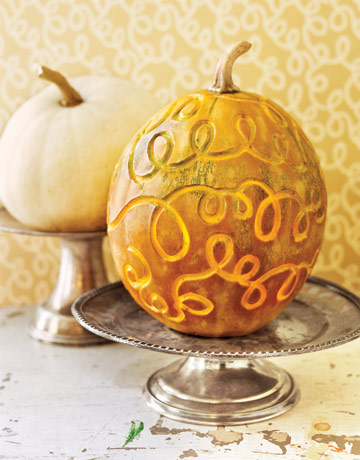 A poncho bordered in bright, simple leaf appliques provided the perfect seasonal motif for this pumpkin. Use a linoleum cutter to cut out the design, leaving small pieces to suggest leaf veins. From Country Living.
This Cinderella pumpkin has deep reddish-orange skin and a bright orange flesh, dramatically evoking the fabric beneath it.  From Country Living.
This carving is simple, but looks stunning when illuminated from within. From Wedding Girl.