Are you looking for unique, personalized wedding favors, gifts or accessories for your wedding or bridal shower?  No matter what your theme or color scheme, American Bridal offers personalized products with the design, colors and themes you're looking for. Impress your guests and your fiance– the prices are just as appealing as the great selection!
I love these adorable candy jars, which you can fill with candy of course, or anything else… paperclips for an office theme, tea leaves for an Oriental theme, seeds for a garden theme… Then add the finishing touch with a personalized label! Besides being cute,  your guests can take them home and re-purpose them for whatever they desire!
Another pretty yet useful wedding favor are these mini-notebooks and pens. No more rummaging around in your bag or pocket trying to find a scrap of paper and a pen! These tiny notebooks are just the thing if you want something personalized and useful that you're guests will love!  Choose a color scheme and motif, and then customize the label with your names, the wedding date, and your last name initial.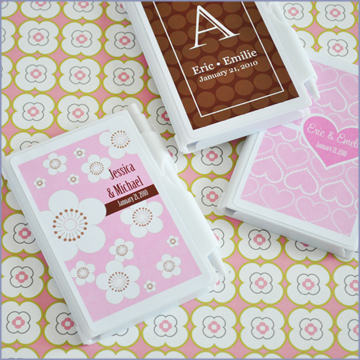 A mug– now that's always handy! These personalized glass mugs makes a memorable wedding reception gift for all your guests, whether they're coffee, tea, or hot cocoa drinkers! They're made extra special after you choose your own design, icons, colors, font style, name and date! (If you prefer, there are also shot glasses, wine glasses, tumblers, and flutes!)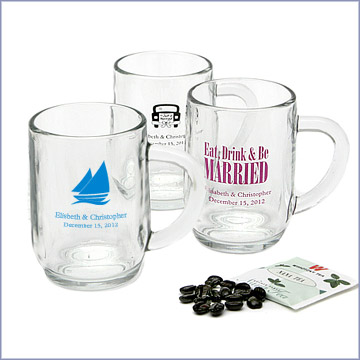 On their own, or paired with the mugs and tumblers, these little drink packets are a delicious wedding or shower favor–easy to transport home, too! Choose lemonade or hot cocoa, depending on the season, and then personalize them with your choice of exclusive monogram designs. Yum!
Personalized napkins— regular and eco-friendly– are available in 4 sizes (dinner, luncheon, beverage, and hand towels) and an impressive spectrum of 28 lovely colors, 9 ink colors, and 3 type fonts! The eco-friendly, absorbent variety are made from 65% post-consumer material for earth-friendly peace of mind.
Take a look at these and other exclusively designed gifts and favors at American Bridal. You'll love the great selection and flair they'll add to your celebration!