Looking for fresh, hip party inspiration for your bridal shower, bachelor/bachelorette party, or even your wedding? A customized wine tasting party will be fun and memorable!
Swirl Events (found via ritzy bee blog) offers a full-service solution– you be hosting a rocking party without having to lift a finger! "A Swirl wine tasting includes everything from hand-selected wines to paired cheeses and chocolates to an enthusiastic and savvy Swirl expert who will guide you and your guests through the experience."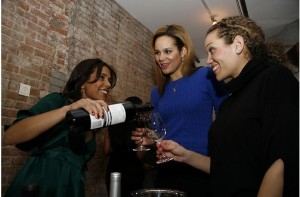 Depending on your audiece, budget, and event, Swirl creates the perfect package for your party of 6 or more.  You can have a structured, elegant affair with a Swirl guide leading you through the ABCs of wine tasting, or a relaxed format with guests mingling and tasing as they please. Either way, you're sure to have the time of your life, sipping, laughing, and learning together… and you can even mix it up comparing wines to celebrities! Is that Sauvignon Blanc you're drinking a Nicole Kidman (elegant and austere) or a Britney Spears (starts off great, but ends in disaster)?  Are you sipping a George Clooney (smooth, suave, and surprisingly complex) or a Salma Hayek (lush and full-bodied)?
What Swirl provide:
Wine-loving, highly qualified Swirl Events experts to lead the tasting
A glass of sparkling wine to set the tone
5-6 wines that are steals, splurges and finds
Perfectly paired cheeses and melt-in-your-mouth chocolates
Riedel® wine glasses, and optional high quality silverware, napkins, plates & serving trays
Tasting note cards and wine cheat sheets
Assistance in securing a venue