Most will agree that a bare-headed bride leaves something to be desired… and I don't think wedding accessories get much more fun than finding a really smashing hat! If you're planning a themed wedding, or just looking for a fresh twist on traditional bridal wear, the perfect hat puts the finishing touch on your look. As a nod to tradition, you can attach a veil to some fashions, like the perky hat and birdcage veil worn by the bride on the left.
While a wedding with a theme is the perfect opportunity to flaunt a hat, you don't need to be in costume to make a statement with fashionable head wear. Even the most demure bride, at a formal wedding, can get away with something special. Your best wedding blog has posted some gorgeous little hats such as these pillbox hats with birdcage veils (flickr photos from vania b and rollibach):
For a ravishing, romantic My Fair Lady look, try a large brimmed picture hat, trimmed with a bow (rollibach), tulle, or flowers (thailand wedding accessories). I think this is my favorite look for a bridal hat! (hat collage from ritzybee)
Roaring 20's Flapper Bride
A small headpiece and veil is a subtle, chic look, like the lovely flapper bride below. But you can create a really roaring sensation with with bright colors, feathers, and jewels, like the Burlesque Peacock Pin from Etsy seller topsyturvydesign:
Welcome to the Wild West
Hang on to your hats, gals, it's gonna be a wild wedding! The Arizona bride on left and Texas bride on the right show you how ladylike a cowboy hat (and boots!) can be!
A Victorian Lady
I have to say I'm falling in love with topsyturvydesign's custom made hats. To play the role of a Victorian lady at your wedding, a gorgeous top hat like one of these is a must:
Who you callin' Matey?
You'll be the hottest bride on the seven seas! Make sure the groom doesn't fall overboard when he sees you all dolled up for the first time. A costume store is the more affordable way to do the pirate theme, where you can find the pirate's bride burgandy hat on left. Or you can go all out with topsyturvydesign's Velvet Tricorn Hat:
Halloween or Goth Themed Wedding
Love never dies, even if your wedding is attended by vampires, skeletons, and ghosts. Celebrate in dark style with the Lady Divina Top Hat or The Mina, inspired by the hat Mina wore when she first meets Dracula in Bram Stoker's Dracula: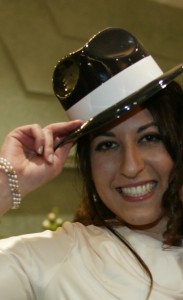 At my own wedding, I wore silk flowers and my mother's veil, but if I could do it over again, I'd be quite tempted to search for one of those glorious white picture hats. Alas, we'll have to settle for this plastic bowler that someone tossed on my head! But a hat's a hat, and I think this is a cute picture anyway 🙂
One last hat idea: Get 'em for the bachelorette party, as bridesmaids gifts, or to wear on your honeymoon! Visit AmericanBridal for personalized gifts, favors, and more!