photo: hp_thornton on flickr
A friend of mine got married last month and she just sent me some pictures from the wedding. The back lighting in some of them was so amazing I just had to share them with you. It creates a vibe that is super dramatic in some pictures, and lighthearted in others… but each one unique! Here are some of my favorites! (I will have to find out who the photographer was, to give credit where credit is due…)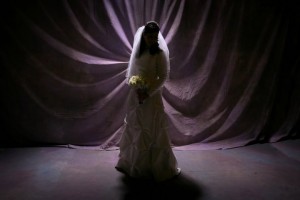 I loved this style so much I looked around online to see what else I could find. Here is a gorgeous back-lighted photo from Bloglalicious: a philipene photo odyssey. I love the blue tone in this one…

This one uses natural outdoor lighting, which illuminates the sky, but leaves the bride's features in shadow. (from Flickr user katbphotos)
Here's another beautiful bride from photo.net, this time with the natural light coming in through a window. The fact that it's in black & white creates such a peaceful feeling of sweetness and anticipation…
This one is from Flickr user DARK-O-krizmanic, and I LOVE how their silhouette is barely lighted around the edges. Magical!
And a really fun one from digital pro talk… I love the red glow and the pattern reflected on the bride's dress:
If you are a photographer and want to learn more about using this technique, you can visit the digital pro talk blog for more info. David points out that the light can't be too close to the subject: The "magic" distance is from 12 – 15 feet behind the subject about 4 feet off the ground. There's a lot of techincal talk about flashes, lenses, and shutter speed, which I don't understnad, but I DO understand this: Back-lighting is one of the fastest, coolest ways to add "Dramatics" to your wedding images. This image is a "money shot" every time. Our clients love it.
I can totally see why they do!