When it comes to dessert, does it really get any better than cake and ice cream? Or cake and ices? Or cake and sorbet? At a summer wedding, there are lots of creative ways to serve sweet and refreshing desserts. These creations are as pretty as they are delicious… I'm feeling a sugar craving come on just looking at all these lovey pictures!
All photos and recipes from Martha Stewart Weddings.
Meringue-Heart Ice Cream Sandwiches: Aren't they just sweet, adorable, and elegant all at the same time?  Meringue is piped into heart shapes and baked, then filled with mango sorbet or strawberry ice cream. Yum!  Get the Ice Cream Sandwich Recipe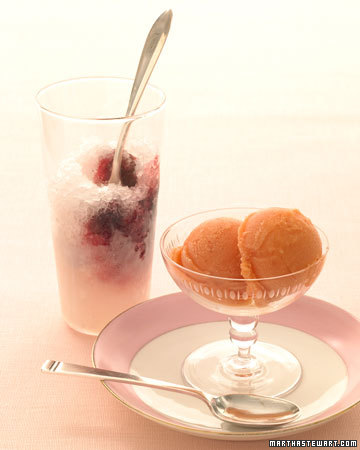 Peach Rose-Champagne Sorbet and Champagne Granita: Sweet and refreshing! Here are the recipes: peach rose-champagne sorbet and champagne granita.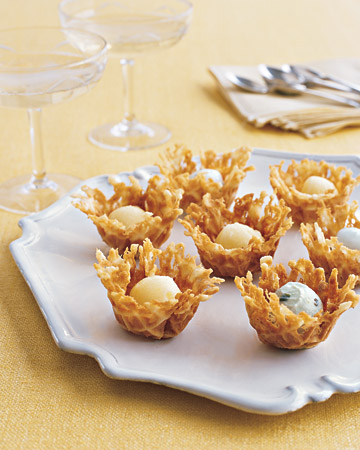 Ice Cream Cups: Ice cream in a cone, but drip-free! Get the Ice Cream Cup Recipe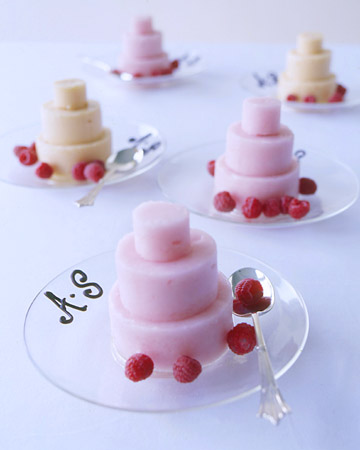 Miniature Sorbet Wedding Cakes: How awesome are these refreshing (and very fitting) desserts? Extra special touches: the bride's and groom's initials are piped in chocolate along the edge of each plate, and the sorbet "cake" is garnished with raspberries. Get the Sorbet Wedding Cake Recipe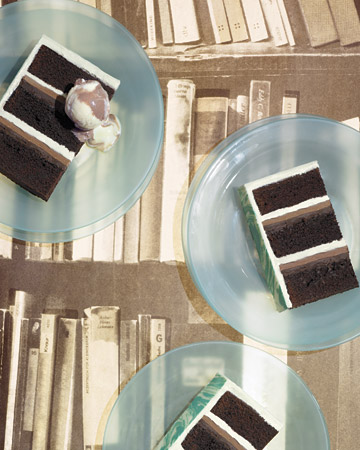 Swirled Chocolate Ice Cream: Like I said, nothing is quite like the cake-and-ice-cream combo! Here's a mouth-watering recipe for Swirled Bittersweet Chocolate & White Chocolate Ice Cream!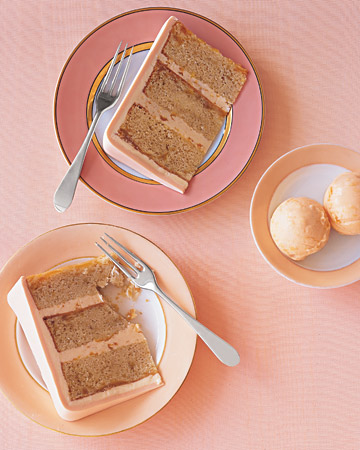 Peaches and Cream Ice Cream: Another ice cream flavor that's as delicious as its beautiful color! Get the Peaches and Cream Ice Cream Recipe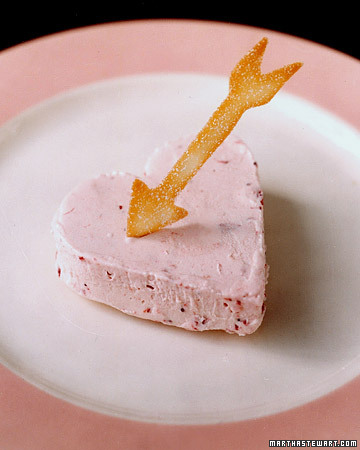 Ice Cream Hearts with Arrow Tuiles: These are made from strawberry ice cream cut into cookie cutter hearts, and garnished with arrow-shaped tuiles. Get the Ice Cream Heart and Arrow Tuile Recipe
Rose Wine Sorbet: Make several batches with different hues of rose wine. Get the Rose Wine Sorbet Recipe