Shaving cream graffiti and old tin cans may be "traditional", but you can do better than that!!  Wedding day transportation comes in many shapes and forms, so make the journey part of the fun!  Take a look at the Knot's gallery of Wedding Transportation for some ideas and inspiration!
*
*
*
*
OK, so you want to do tin cans. They can still be classy if you do it like this! The bridesmaids decorated this cream-colored Chrysler PT Cruiser convertible with a hand-painted "Just Married" sign and white spray-painted soup cans tied on with satin ribbon.
Magnetic letters are a a clever (and non-messy) take on letting the world know you've just tied the knot!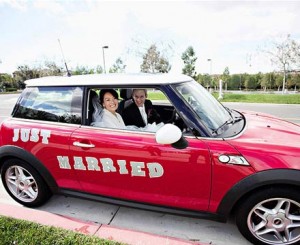 Here's an old ice wagon that the groom learned to drive, so he could take the bride to the place where they had shared their first kiss. Mom decorated the wagon with a "Just Married" sign. Now that's romantic!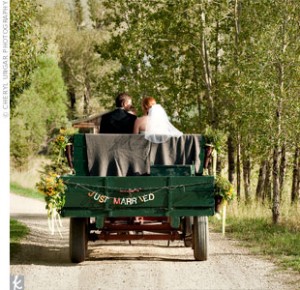 A horse-drawn wagon is also a good choice if you're looking for transportation with minimal environmental impact.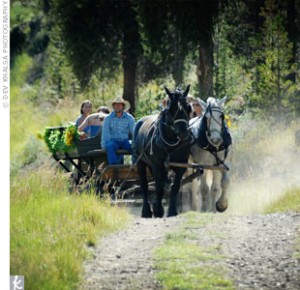 Transportation to this garden wedding was provided by a trolley company in Stillwater, Mn.  A trolley… how jolly!
You don't have to break the bank (or your head, trying to get creative) when it comes to wedding transportation. This bicycle, dressed up with purple and white flowers, makes your exit both sweet and playful.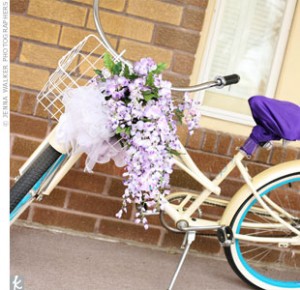 Then again, if you DO want to be extravagant, try topping this! When guests at one New Orleans wedding exited the ceremony, they were surprised to see real Mardi Gras floats ready to take them to the reception! The bride and groom even arranged for the police to block off some of the streets for the processional!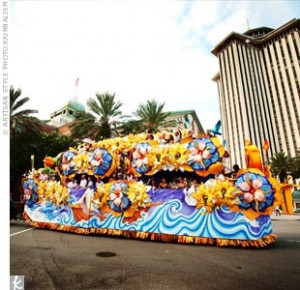 Sail away to your wedding reception like this bridal party, who boarded pontoon boats that took them to the reception.
More fun on the water with this elegant Venetian-style gondola. Love the bride's black-and-white parasol and the bright cushions and pillows! As a sweet touch, guests lined the bridge overhead to shower them with pink rose petals.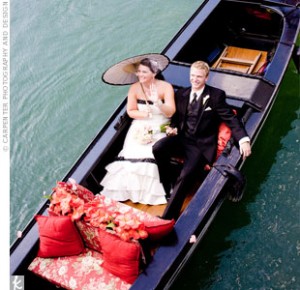 Remember how much fun you used to have on those bus rides to school field trips? Capture those carefree days again– hire a school bus to transport the wedding party to and from the church and reception.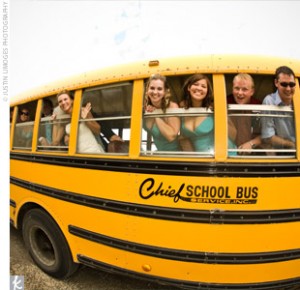 Getting married on the green (grass)? Use golf carts to whisk the wedding party away, like they did at this wedding that took place on a farm.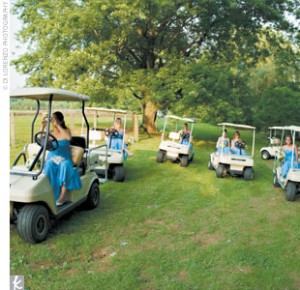 After this ceremony in San Francisco, guests stepped onto three cable cars and were given an hour-long city tour while sipping champagne.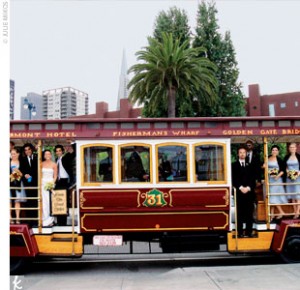 See more fun and unique wedding transportation ideas at the Knot.