Summer is not yet officially upon us, but it's getting hot here already! Thoughts of sand, beaches, water, and weddings are floating before my eyes, and let me tell you, I can hear the gulls crying and smell the sunscreen already!
If you are planning a waterside wedding or just want to bring the magic of summer into your wedding scheme, decorating your tables and venue will be a ton of fun (in the sun)! Aside from seashells and starfish, there are lots of ideas for a gorgeous, classy, and unique summer wedding.
Colors of the Sea
Let your wedding colors be influenced by the varying shades of the ocean. Blue, green, turquoise, and silver, accented with navy or sandy shades are perfect for a beach-themed wedding, lending your venue that elusive, mystical beauty of the sea.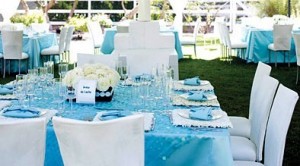 images from weddings on the french riviera
Or take some inspiration from this silver and navy blue wedding:
Candlelight
Your celebration may begin during daylight hours, but we know you'll be partying through the night! Light up the night with lots and lots of candles–the twinkling lights add romance and festivity. Put them on your tables, line your isles, and any other available surface!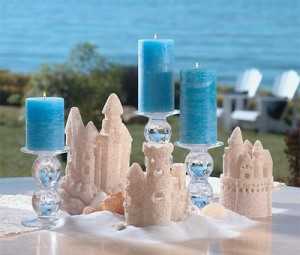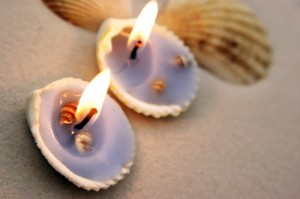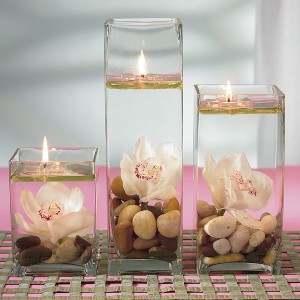 Images: candles and sandcastles: Wedding blog via Chillipit, candles in seashells: perfect-wedding-day, candles, stones, and orchids:  cheap wedding centerpieces
Fun Touches
Follow the beach theme as far as you want to go with it! Place cards, wedding favors, guest books, and wedding cakes… there is endless space for creativity!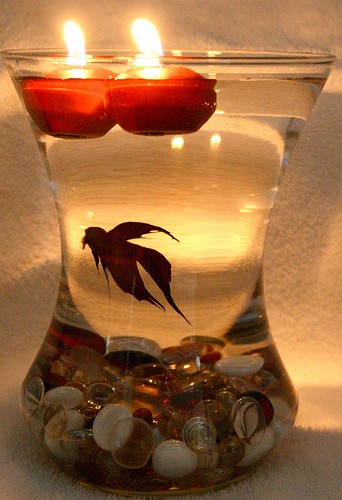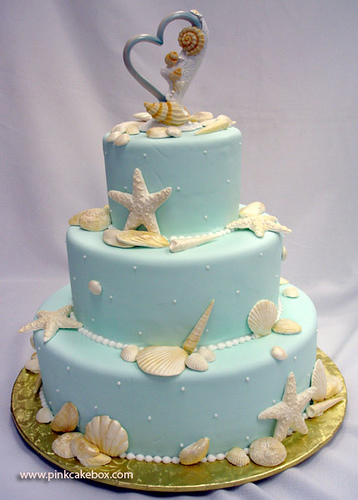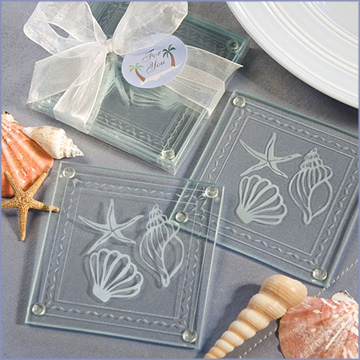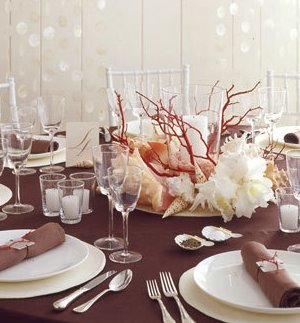 Images: fish centerpieces: wedding by color, cake from pinkcakebox on flickr, coasters from American bridal, seascape centerpieces from PicsDigger, message in a bottle place holders: Blushing Bridezilla
Dress Accordingly!
Whether or not you are actually getting married on the beach, your dress choice should be light and airy! Bring on fun accessories such as parasols, shades, and sunhats, for both the wedding party and the guests!
Images: bridesmaids with parasols from SMH.com, Sunhat from Clothing Coupons, bride & groom in sunglasses from luster studios