I found the most extraordinary wedding designed by Colin Cowe that took place at the Beverly Hills Hotel. Iced blues and silvers, reminiscent of the Art Deco era, evoke the glamor of Old Hollywood starlets. I cannot remember the last time I was so taken with the look of a wedding reception, but I think it has everything to do with the romantic lighting and mirrored table tops.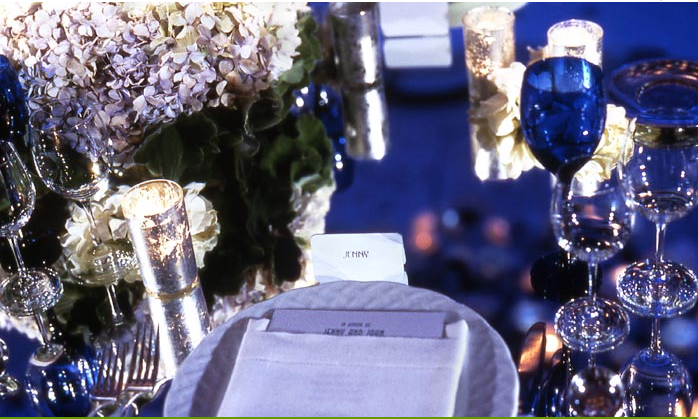 "The reception carried the theme of glamor way into the night. To start, we laid down a powder blue carpet to create an understated demure look. Then I added a white lacquer dance floor with the bride's and groom's initials projected onto the middle…"
"…To add texture and keep it interesting, I used four different interpretations of a theme of flowers on the tables. Additionally, we topped some of the tables with mirrors and added satin and silk blue bengaline linens to others…"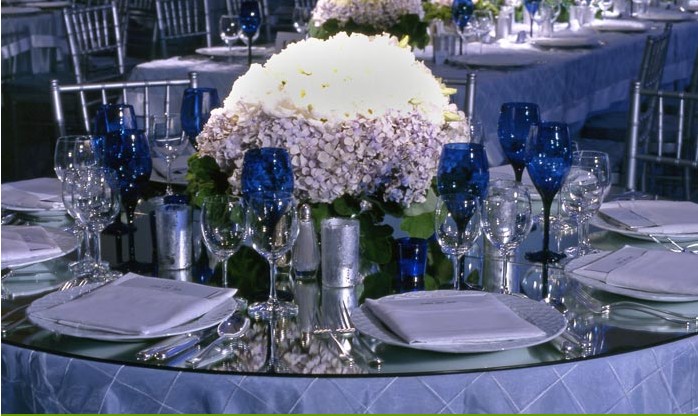 "…The chairs were all elegant silver charivaris covered with ice blue crushed satin cushions. Satin and bengaline fabrics were used throughout the reception room, along with the cool blues and silvers similar to what was used right from the very beginning, with the invitations. The look was sophisticated and elegant and it took you way back to a time long gone but not forgotten."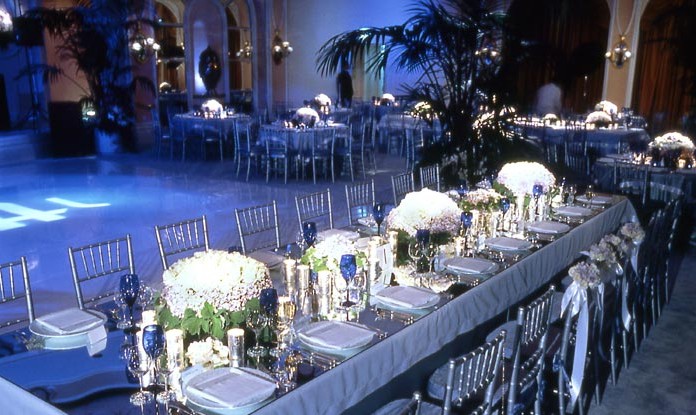 "And of course, the wedding cake was the pièce de résistance of this extraordinary wedding. Powder blue icing quilted with pearls graced every other layer. A draped white chocolate pearlized icing was used on the layers in between. On top was one single beautiful over-scaled gardenia, the quintessential flower of the 1940s. For added drama, the cake was placed on a mirrored pedestal, adding to the room's glamorous ambience."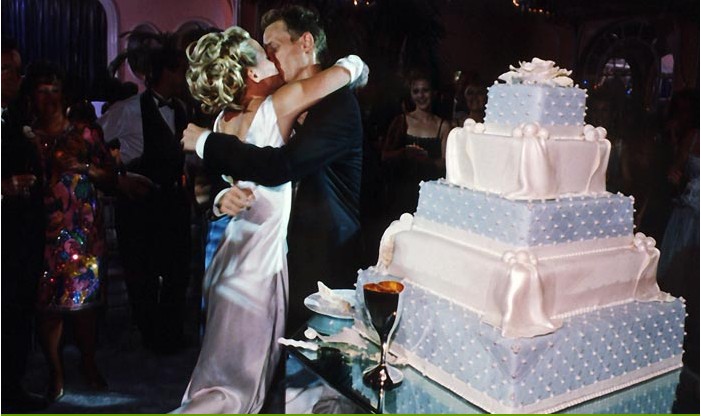 Of all the beautiful touches that went into this wedding, I admit that the wedding cake is not my favorite aspect. But that dress!! I absolutely love the bride's gown, "an extremely elegant dress with a single embellishment; a beautiful 1940s David Webb diamond pin. The look was simple; a creamy white silk satin cowl neck in the front and a low cowl in the back, complete with opera-length ivory satin gloves. Complimenting the look, the bride carried a tight pomander of creamy white spray roses."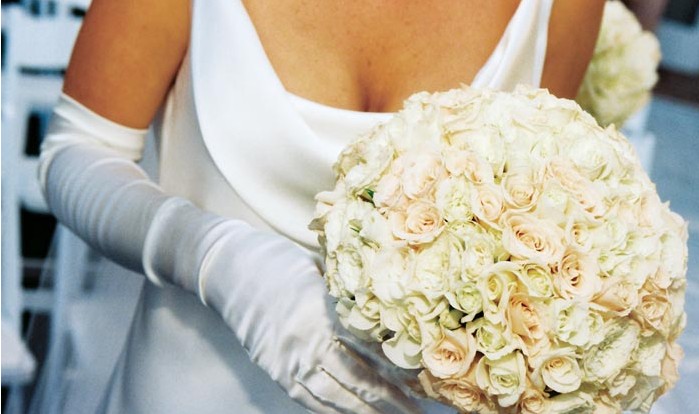 As an aside, it doesn't hurt to note, as Manolo Brides points out, that navy blue is very elegant and very chic right now.