Your wedding invitations are the prelude to the happiest day of your life, setting the stage for the wedding itself. It shows up your loved one's mailboxes, announcing the significant change that is occuring in your life, and also honors your guests by telling them you want them to share in your celebration.  You'll want your invitation to reflect your personality and style, and there are a number of DIY (do-it-yourself) websites that can assist you in creating the perfect invitation. For some, DIY invitations are a way of saving money on printing costs, for others, DIY invitations are a way of customizing the most unique, beautiful, and memorable invitations possible!
This website deals in fine, handmade papers from around the world. Their spectacular selection is sold in a wide range of forms – large sheets, pre-cut and packaged letter sized sheets, envelopes and accessories. The palette includes colors developed by and exclusively manufactured for Paper Source.
For the bride who's searched high and low for the perfect invitation, this site provide exquisite stationary design, high quality service, and great prices. You can choose from existing formats, or have something customized to truly celebrate you and your unique wedding style!

These invitation kits are both luxurious and economical. You will find beautiful styles that range from classic to ultra trendy. You can order thee invitation kits and print them yourself!  You'll get professional results even on a tight budget.
Amazon.com has a selection of printable invitations from a variety of sellers.
As the name of the website suggests, Style on a Budget offers an enormous selection of materials and tools, tailored to your budget.  You can creat a custom DIY package, or schedlue a consultation with their custom design studio.
Modern and eco-friendly, many of these contemporary invitations are made from tree-free papers, handmade papers, fine European papers, and 100% postconsumer recycled papers. They believe "affordable" should never look cheap or "homemade". Your wedding invitation kit comes with everything you need to produce modern, elegant invitations!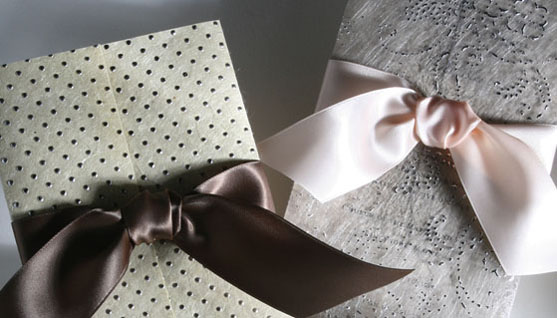 Here, you can find gorgous templates, luxurious papers, embelishments, for under $1.00! (If that's not affordable, I don't know what is!) Order heavyweight cards available in handmade petal paper, rich solids in the latest colors, modern and vintage prints or shimmering metallics. Then add keepsake embellishments to create chic, affordable invitations without having to sacrifice quality or style. Plus, you can find high quality invitations made from 100% recycled papers and tree-free recycled cotton.
Thanks to About.com Wedding for pointing us toward all these fantastic sites!
Please check out the comment section to see more great sites our readers recommend!! And, if you have another DIY invitation website, please add it to the list!
DIY brides can now take a stab at DIY wedding favors! American Bridal has everything you need, from bags & boxes, ribbons & bows, tags & stickers, candies & other edible goodies, charms, wraps, aroma beads, and more! You can also find wedding favors for under $1.00 each!