Roping steer on horseback, scuba diving, golfing, fishing, biking, gourmet food, breathtaking scenery… If a night at the strip club just doesn't cut it, turn your bachelor party into the adventure of a lifetime that no one will ever forget! Here are just a few ideas to whet your manly appetite!

Cattle Wrangling in the open range, like the old-time cowboys? ATV'ing through the rich mountains of southern West Virginia?  Whitewater river rafting through the historic mining valley of Idaho Springs? Check, check, check! If a night at the strip club just doesn't cut it, turn your bachelor party into the adventure of a lifetime that no one will ever forget! Adventure Bachelor Party plans unique, adventure-based bachelor parties for groups of friends looking to make great memories. By planning everything from the lodging to the adventure with trusted and proven outfitters around the United States, Adventure Bachelor Party allows the bachelor and his friends to enjoy the experience without all the worries and hassle of planning a group trip. Outings range from simple day trips to all-inclusive adventure weekends.
Gladiator Charters: If your idea of a good time involves boats and tackle, how about a bachelor weekend in Cabo San Lucas, world famous for it's sportfishing.  More than just a deep sea fishing trip, it is a Private Luxury Cruise aboard the 68 foot "Pegasus", complete with fantastic gourmet meals, a spacious air conditioned salon with sofa, love seat and coffee table, wet bar with ice maker, large retractable plasma TV with DVD, CD and satellite radio system. While on land your group will explore some of Cabo's hottest spots for eating, drinking and entertaining.
The Bachelors in Boots Weekend at Rancho de los Caballeros: For your last stand, discover the romance of the wide open range…at an Arizona ranch resort with 20,000 acres, 18 holes of golf, and 100 horses for exploring the rugged trails.  Live it up with your buddies old west style with a weekend full of cowboy fun…horseback riding, campfire cookout, trap & skeet shooting, saloon poker party, and maybe even time for golf!!
(Attention Bachelorettes: Giddy-up Gals Gettaway availible too!)
Mountain Biker's Rite of Passage: Experience the most spectacular landscapes in the West on the White Rim Trail!  Riding on a sandstone bench through a land called "Island in the Sky" you will pass Mussleman Arch, Monument Basin, Turks head, Candlestick Tower, and White Crack, a perch 1000 feet above the confluence of the Green and Colorado rivers in the center of Canyonlands … If you only had time for one mountain bike trip in your life, this should be the one!
Paradise Island, Bahamas: Fun in the sun includes deep-sea fishing, introductory scuba dives, a water park and, for the certified divers, crazy wall dives and Shark Week in 3-D. After a day in the water you can party at Atlantis' recent addition, The Cove, a posh adults-only resort with a top-notch dance club and poolside gambling.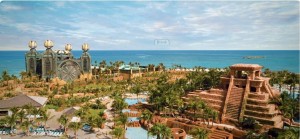 For more adventure bachelor party ideas vist I'm in or Away.com.