Happy New Year's to you! In honor of 2008, let's talk about the newest wedding trend:
Wedding colors in exciting, bright, hot shades. Today's brides are chosing colors that reflect their individuality, and wedding dress designers are gladly leading the trend with bursts of blue, gold, pink, green, oranges, reds… just about any color you could possibly imagine. You'll see white dresses that are touched with color for an elegant contrast. You'll see the adventurous bride wearing head-to-toe color. Whatever you choose, the options are practically endless!
Here are some ideas on adding color to your wedding gown or wedding party, from David's Bridal. It's as easy as wearing a sash matching the colors of your bridesmaids' dresses: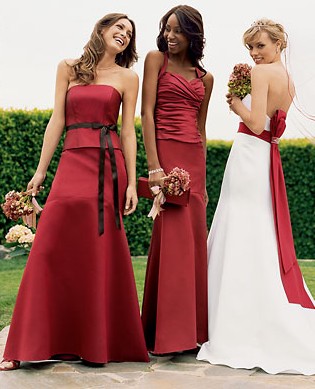 Kate Parker is a wedding coordinator who understands the energy of striking color combinations. I love her use of lime green and fuscia!
Just as you think it doesn't get any more daring… what do you think of this new Parisian trend: the black wedding dress?!