No color says winter like white. These amazing cakes may be pristine and snowy white on the outside, but like a snow-covered scene they can be any color or flavor underneath! The catch is, they're so gorgeous you may have a hard time cutting into them!
*
feature image from Martha Stewart Weddings
*
The knot: A family friend baked this three-tiered cake with white icing (doesn't the texture remind you of snow?!). Black ribbon and pine cones gave the confection an elegant winter theme.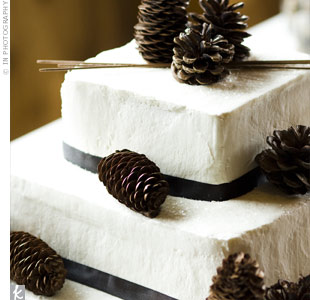 Martha Stewart Weddings:  The designs on this dramatic tower mimic the elaborate cake-decorating style of Joseph Lambeth, a master baker in England during the 1920s and '30s. Fine garlands and latticework are piped onto the fondant in royal icing, as are delicate roses and bunches of grapes. The star and C-scrolls on top are examples of a technique called overpiping, in which a shape is layered over again and again, giving it depth. These heavier effects are piped in decorator's buttercream (thicker than usual) to maintain their shape.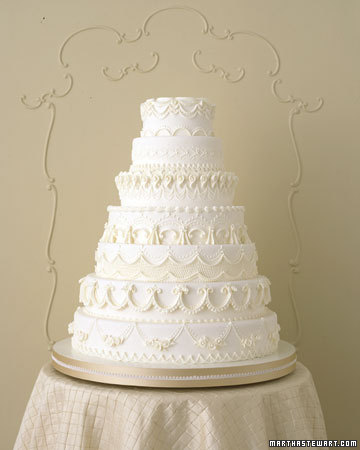 Wedding Cake Creations: This sweet package by Diane's Sweet Treats is just begging to be cut open!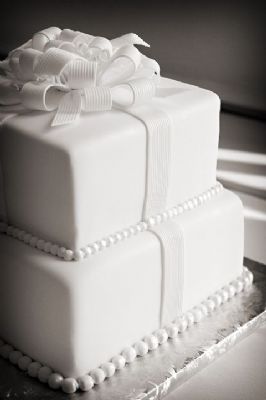 The Knot: The groom's mom made a set of three tiny, fondant cakes topped with black feathers and white sugar flowers to match a vintage wedding theme.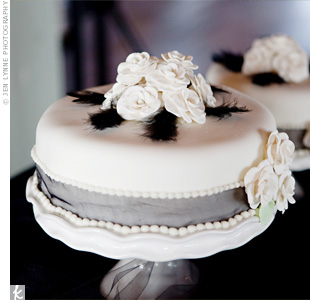 Martha Stewart Weddings
: To evoke a hip sixties dress crafted of embroidered lace blanketed with floral cotton appliques, cake designer
Ron Ben-Israel
created silicone molds of appliques inspired by the original fabric, including dahlias, roses, and periwinkles. Sugar paste was pressed into each mold, then applied in layers to the fondant. Amazing!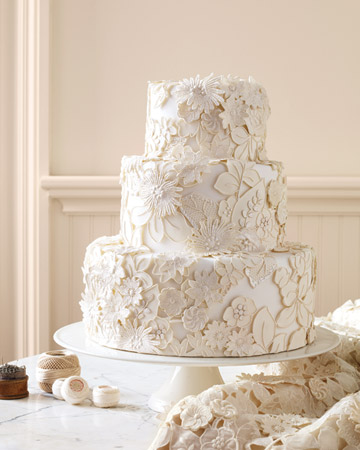 My Wedding Planning Guide: Marzipan is made from sugar and ground almonds, and has a distinct sweet, smooth flavor. It is often used in wedding cake decor, as it is very malleabe and can be used as icing or formed into delicate shapes such as fruit, flowers, and other designs.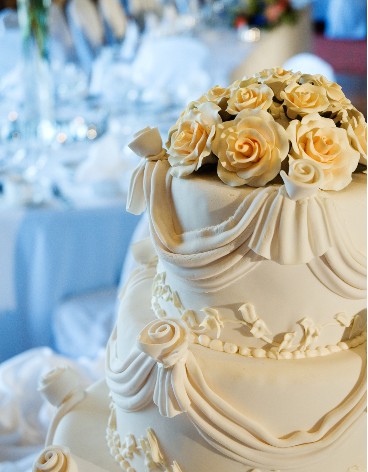 Martha Stewart Weddings
: Techniques used by dressmakers to turn fabric into flowers inspired this sophisticated applique cake. A combination of fondant and white chocolate both envelops the cake and decorates it. Prim buttercream dots frame the designs.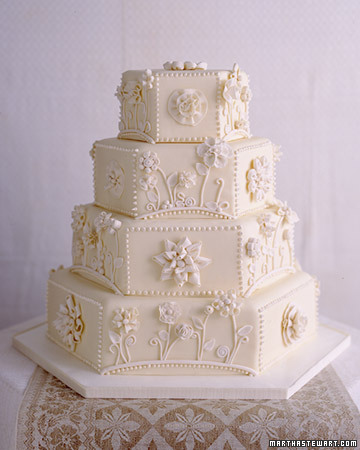 The Knot:
This three-tiered, ivory buttercream–frosted cake is simple but lacks nothing in the elegance department. Beads of icing and wide ribbon enclircle a cake that hides layers of raspberry buttercream and marzipan.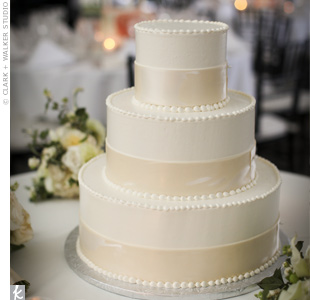 Martha Stewart Weddings: This cake is as magical as the season's first flurry. Snowflakes made from royal icing start off small at the top of the cake and grow toward the bottom, giving the impression of a gracefully drifting snowfall. The tiers are frosted with Swiss meringue to resemble tightly packed snow. If you're adventurous, you can DIY: Make This Snowfllake Wedding Cake.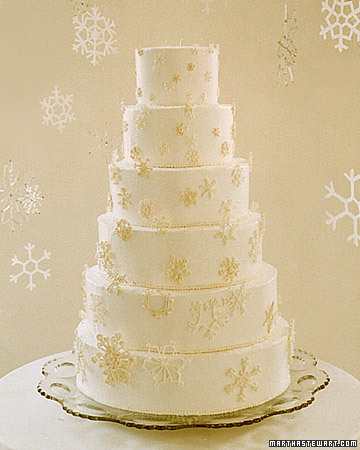 The Knot: A gorgeous, retro four-tiered square cake covered in a white-on-white pattern of dots, with larger dots separating the tiers. A few fresh white japhette orchids topped the confection.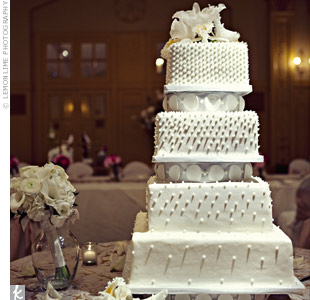 Martha Stewart Weddings
: The reticulated pattern of this 18th-century English china is emulated in the multitiered cake by rolled fondant cut with aspic and eyelet-embroidery cutters. Sugar paste was used for the "embroidered" flowers on the top and base.