Spring and summer are almost synonymous with beautiful, fresh, brightly colored flowers. When the season of fall comes blowing in, choosing just the right blooms may take a bit more thought, but your choices are equally vibrant and striking. Here are some ideas and photo inspiration to get you started!
*
*
feature image: From-You Flowers, chrysanthemums, daisies, pitta negra accented with preserved oak leaves.
*
Rich colors: Proclaim the end of summer with the deep, dramatic shades of autumn- burnt orange, deep crimson, chocolate brown, forest green. and pair them with unexpected colors like eggplant, turquoise, and metallics. Here are some favorite fall flowers:
poppies with dark centers
elegant dahlias in red, orange, and plum
deep crimson calla lilies
roses such as Black Magic (dark burgandy) or Terra Cotta (burnt orange)
antique hydrangeas in greens and purples
iris in amethyst hues
fiery montbretia in bright red and gold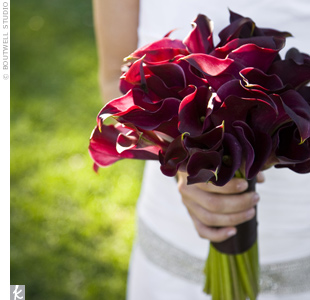 red calla lilies: The Knot
orange makara and cymbidium orchids: The Knot
Texture: Instead of just one or two types of flowers, try a wider mix of lush, richly hued flowers with lots of interesting texture. For example:
feathery crocosmia and
velvety coxcomb
non-floral accents such as cotoneaster or hypericum berries
lotus pods
fiddlehead ferns
wooly lamb's ear leaves
fall foliage like copper beach, vine mapleliage, or croton leaves
Dry grasses like rye or wheat
crab apples and ornamental cabbage
Structure: Loose, cascading bouquets are a natural choice for spring and summer brides, but think about a more polished bouquet for fall. A more densely packed, dome-shaped bouquet with the stems wrapped in textured fabric, velvet, or ribbon is very elegant.
calla lilies and roses: my wedding planning guide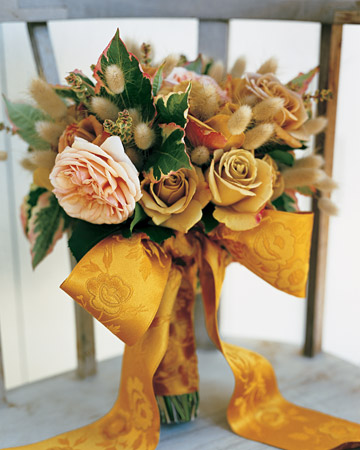 Centerpieces: Instead of flower arrangements, what about plants?  You can group potted plants and flowers as centerpieces, and they can do double duty as wedding favors, too!  Some ideas include:
Succulents, which come in deep, fall-appropriate hues
orchids
ferns
sweet-smelling potted herbs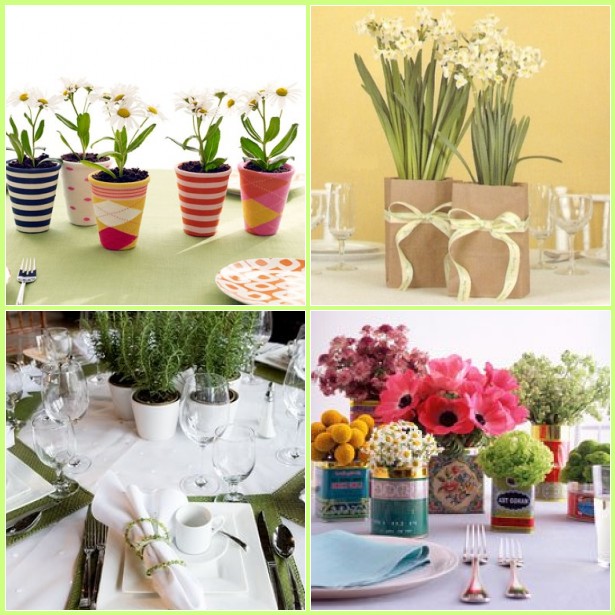 potted centerpieces: In the Details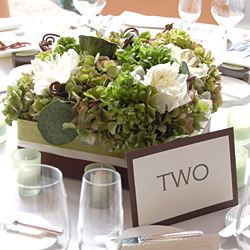 succulent and roses: the knot
basil, parsley, thyme: foodie reflections
Unique containers: Bye bye, glass vases!  Style-conscious couples are using more eye catching containers this fall, from copper pots to silver trophy cups, wooden containers, and antique urns from the flea market.  You can use one large container or a collection of vessels in various sizes that your guests can take home at the end of the evening.
Rustic moss containers: Martha Stewart Weddings
Urns, trailing ivy, dahlias: Style me Pretty (photo by Rosemarie Lion)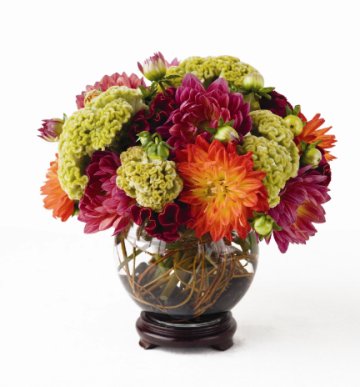 fishbowl centerpiece placed on a stained wooden stand: wedding flowers and reception ideas