Wedding bouquets say a lot about the brides carrying them!  The more traditional look is a tight, round, topiary-type bouquet (where the red rose reigns). But wait, there's more!
Brides.com takes a look at some bouquet shapes that are "equally lovely, but far less predictable." And I can't get enough of them! (Which is why, five-and-a-half years ago, I carried one of these down the isle myself!)
Feature image: Your Special Flowers.com
*
Asymmetrical
That's right, who said a bride's bouquet has to be any sort of shape at all?  This free-falling bouquet allows for a fluid, just-threw-this-together arrangement in which the flowers and greenery are longer and more abundant on one side than the other.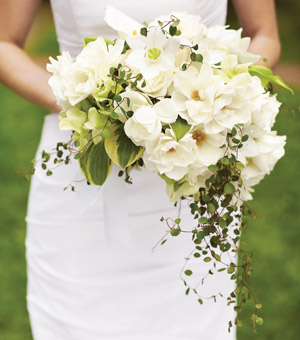 Bouquet of garden snow roses, mini hosta leaves, hellebores, Eucharist lilies, calla lilies, and wire vine by Bridget Vizoso of The Designers' Co-Op, via Brides.com
Crescent
In this unique bouquet, the flowers arc outward from both sides to create a balanced crescent moon shape.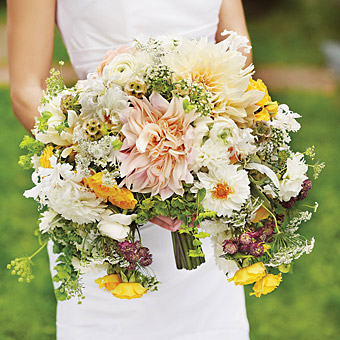 Bouquet of dahlias, spray roses, Queen Anne's lace, ranunculuses, hydrangeas, scabiosa pods, maidenhair ferns, and astrantias by Jessy Wolvek of Fleurs NYC, via Brides.com
Waterfall
In this dramatic composition, a rich mass of flowers at the top of the bouquet gradually tapers downward and delicately trails off. Here the flowers and greenery are arranged on a piece of driftwood to help achieve a teardrop shape.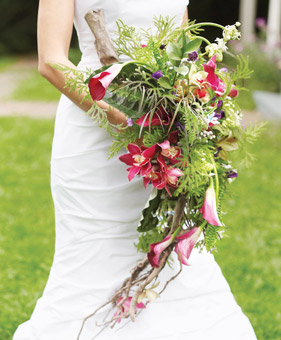 Bouquet of orchids, mini ferns, stars of Bethlehem, tweedia, begonia leaves, calla lilies, sweet peas, succulents, and brunia by Steven Bruce Design, via Brides.com
Flat
This style is also referred to as a presentation bouquet, and features long-stemmed flowers that rest in the crook of the arm. If you are a petite bride, pick a more compact version, whereas a taller bride can go all out.
Bouquet of snowberries, garden roses, jasmine, and clematis by Jane Packer New York, via Brides.com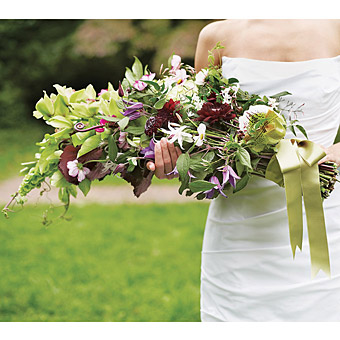 Bouquet of dahlias, cosmos, scabiosas, green tea roses, nerines, cymbidium orchids, lady's slipper orchids, bells of Ireland, passion vines, jasmine, clematis, and fiddlehead ferns by Xylem & Phloem, via Brides.com
Last but not least…
This was my bouquet… it's along the lines of the "Waterfall" style but didn't cascade quite as far down or as dramatically as the one featured above. But I absolutely loved it!