Wedding favors allow guests to take a little piece of the celebration home. Though often presented at place settings or displayed on a table by the door, favors can be offered in another way that is both impressive and economical: grouped together as centerpieces. Martha Stewart shows us how this idea can be beautiful, fun, and classy:
These glass candle holders are actually a DIY product! To re-create the beauty of etching, all you need is a rubber stamp, white ink, and glass candleholders (frosted glass holds ink best). Buy stamps with images that match your theme (one stamp can form a single motif or an allover pattern0 or have an office supply store custom designed stamps with images such as your monogram. Carefully roll the stamp from side to side, and allow a day or two for ink to fully dry.
Guest Gifts that Grow:
For a country or casual wedding, centerpieces consist of sweet clusters of potted zinnias, with a sign telling guests to "Please pick one." The pots are painted with acrylic paint to match the flowers. Glassine bags full of seeds are attached to each place cards with directions for planting printed inside.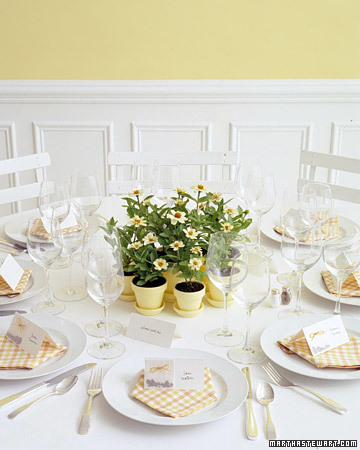 Here's an idea for unique, old-fashioned charm! Biscuit and tea tins, with their beautiful lettering and designs, are inexpensive and easy to find at specialty-food stores, tag sales, and online auctions. Test tins to see if they're watertight before filling with flower arrangements. If any do leak, use plastic bags as liners.
You can literally spend pennies on floral centerpiece holders. Anything that holds water and flowers will work (tin cans, plastic bottles, 25-cent mugs), then create a unified look by slipping plain white lunch bags over the containers and cinching the tops loosely with ribbons tied in bows.
Love grows and (unlike flower blossoms) becomes stronger with time. Give guests a favor that symbolizes this, such as these foot-tall Norway spruces. Many seedlings are available at online nurseries.
The bride and her family hand-painted these terra-cotta pots and grew the geraniums, herbs, and other foliage themselves!  At the wedding, guests were invited to take home their favorite as a fragrant favor.
Edible Guest Gifts:
These little champagne-bubble candy favors are  elegantly dressed up in crepe paper and monogrammed stickers. And would you guess that the flower centerpieces are made of crepe-paper too?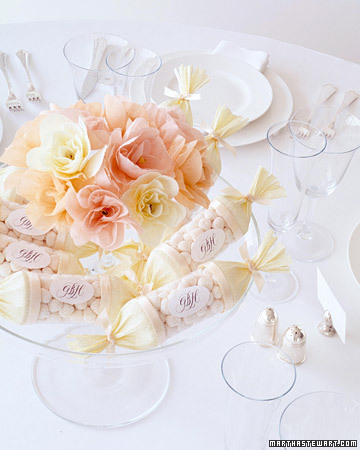 Cute boxes assembled in the shape of a three-tier layer cake… what could possibly be inside? Cake, of course! Slices of the groom's cake, to be exact, all ready for the guests to take home.  The pretty flower touches are ranunculuses, sweet peas, hyancinths, and lilies of the valley.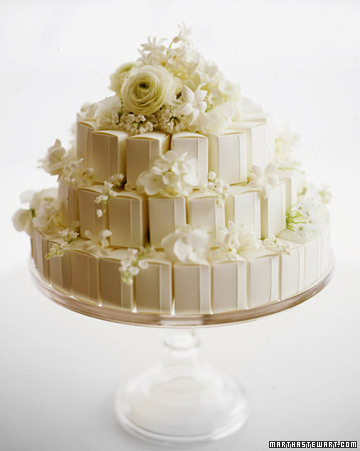 I just love the centerpieces in this rustic Italian display! The ripe, juicy tomatoes symbolize abundance and fertility — and make luscious favors.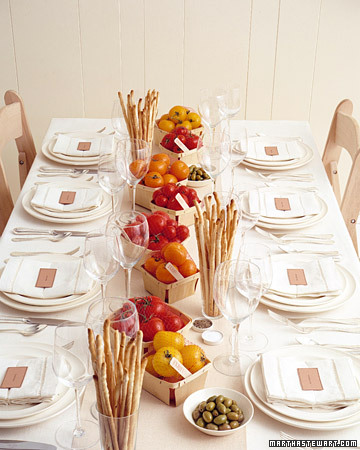 A similar idea is to fill Nantucket baskets in various sizes with warm-toned fruits: pears, apricots, and apples. Small baskets laden with blond cherries are arranged at place settings for guests to take home. Instant mouth-watering, rustic charm!