Summer is on the wane, and everything shifts with the seasons in regard to wedding planning. From the foods to the colors to the fabrics, and of course the flowers a bride carries down the aisle. Celebrate the season with a deep, lush, majestic bouquet, like some of these pictured below!
feature image: The bride at this California wedding, a floral designer by trade, composed her bouquet of plush 'Pieter B' and 'Evelyn' garden roses, bunny tails, and pink-edged variegated dogwood. Vintage jaquard ribbon adds a final flourish.  Read more: Fall Bridal Bouquets.
below: This bride wasn't picky about her flowers and let her florist decide what would work best. She carried white hydrangea, orange roses, and dahlias. The roses and dahlias were two different shades of orange, adding depth to the bouquet. Read more: the Knot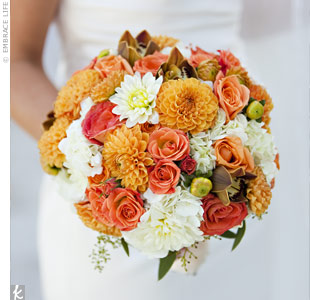 below: Berries are a great way to add texture and dimension to fall weddinb bouqets. Hypericum berries and viburnum berries are both great choices. Tying your bouquet with orange, brown ribbons subtly brings in colors of fall, even if your bouquet is not made up of autumn colors. Read more: My Wedding Planning Guide

below: Rich and classic, this dome-shaped bouquet of warm-hued garden roses is enhanced by dates and kumquats brushed with gold metallic powder and set on wire stems. Shell-shaped metallic trim wraps the wider ivory satin ribbon. Read more: Fall Bridal Bouquets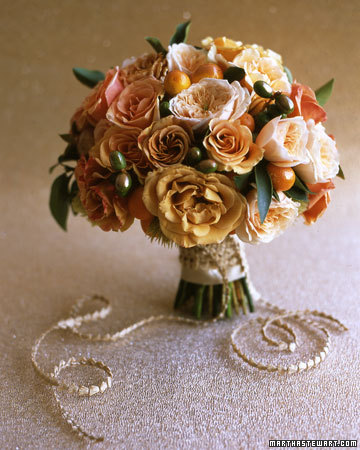 below:
Here's a bold floral statement! Late-season aubergine dahlias get their sparkle from white-tipped petals. The leaves are embossed velvet. Fresh chartreuse acorns are a nod to the colors of spring, just a couple seasons away.
Read more: Fall Bridal Bouquets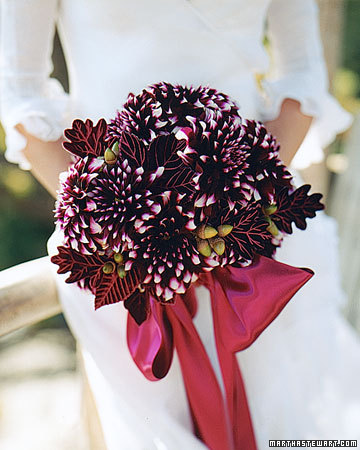 below:
This bride carries a truly unique bouquet, made up of orange makara and cymbidium orchids tied with a white silk dupioni ribbon. Read more: 
the Knot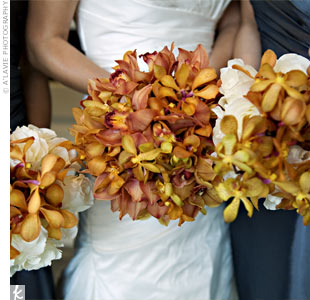 below:
There is something so vibrant about yellow flowers! Striped 'Abracadabra' and 'Hocus Pocus' roses make an arresting foundation for a bouquet. Their yellow and aubergine shades are mirrored by an assortment of butter-hued roses, bright yellow marigolds, deep burgundy ranunculus, and orange-colored rose hips. A vintage ribbon in a sparkling golden-yellow hue completes the arrangement. 
Read more: Fall Bridal Bouquets
I love the shape of the Chinese lanterns here, which look exquisite together with white and orange seasonal roses.  The darker orange Chinese lanterns dangle gracefully like charms from a bracelet.  Read more:
Fall Bridal Bouquets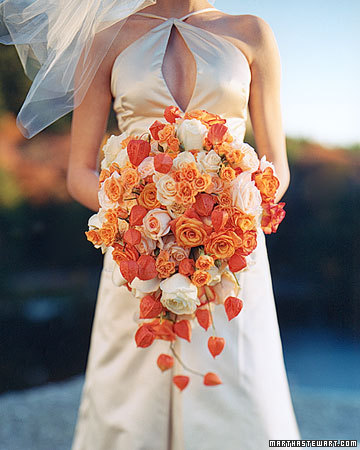 below:
Thse wedding flowers emit a warm, soft glow, thanks to the orange ranunculus and wheat-colored feathers. The stems are wrapped in a soft, golden ribbon.
Read more: The Knot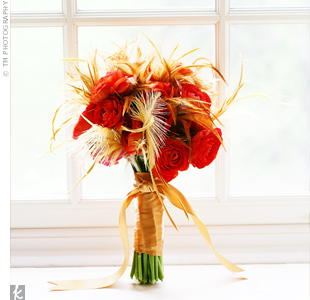 below:
This compact oval cascade is lively with fiery hues. Cheerful little narcissus with orange centers dance among freckled vanda orchids, red-striped roses, and deep-orange gloriosa lilies with buttery edges. Young gloriosa blooms with their still-green petals provide contrast. 
Read more: Fall Bridal Bouquets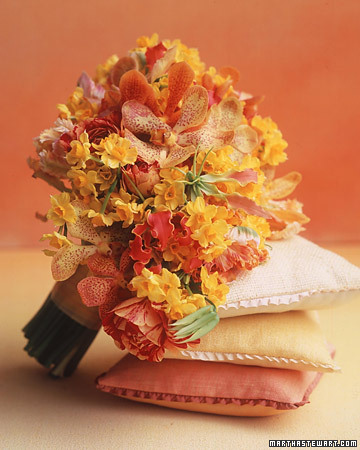 below:
What a work of art! This bride carries a vibrant combination of yellow calla lilies, roses, spider mums, and chocolate cosmos in a gorgeous asymmetrical bouquet wrapped with twisted grapevine.
Read more: The Knot