I know we are just getting into the heat of the summer and most summer brides are envisioning sunny skies for their wedding day.  But if you are planning a wedding for the winter months, it can be tricky being prepared for any weather situation. Should the reception be held indoors or outdoors? Will the cloudy skies or rain ruin the photographer's plans?
I started thinking about that becuase I saw Offbeat  Bride's entry called Rainy wedding = Gorgeous wedding, along with a super cute picture of a sunny bride and her polka dot umbrella.  I did some Google searches to find some more photos of rainy wedding days and found some truly gorgeous shots! So don't let wet weather put a damper on your special day– cloudy skies and rain drops can get you some stunning and very original shots! Besides, many cultures regard rain on your wedding day as good luck! Take a look (you can click on the picture and follow it to its original location)… you might just find yourself wishing for rain on your wedding day too!
I love this black and white photo with the red umbrella!
More black & white and red… gorgeous!!
One more from that bridal party, I love it!
And here's a good idea: You can buy umbrellas that match the bridal party colors 🙂
Or… you can match the umbrella to your lipstick and bouquet: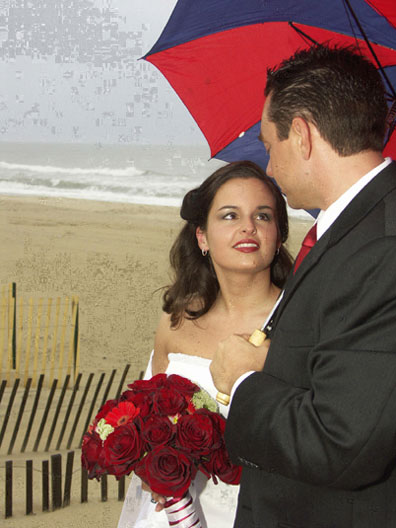 Aww, what would be cozier than a kiss under a shared umbrella? Sweet!
Nothing like a brisk walk in the rain!
You can even order rain gear and personalized umbrellas to give out as wedding favors at Wet Knots Online: