Everyone loves getting a personalized gift, especially one that's hand-made… with love. I just recently discovered the joy of hand-painting my own gifts for people, which is a fun, relaxing hobby, a chance to get the creative juices flowing, and, of course, a way to show your friends how much they mean to you! A hand-made gift shows that you put extra thought into their gift, not to mention the time and attention you devoted to putting it together.
In particular, I've been loving these wooden items that you can paint yourself. Mirrors, picture frames, door plaques, wall hangings, keepsake boxes, bowls, trays, mezuzahs, and more! Check out your local crafts store to see what other kind of fun things you can make yourself.
Here are some things I've recently made for friends…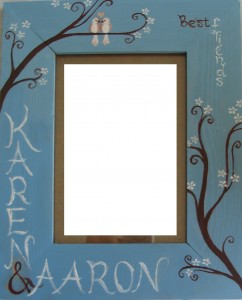 Another fun idea is a door plaque. This one says simply, "Welcome," but you can also put the couples names, such as "Bill & Laura" or "The Smith's"…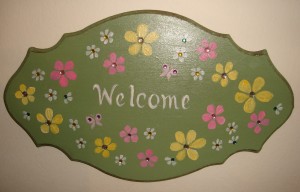 For your Jewish friends, a hand-painted mezuzah is a nice gift! (I actually used a wedding invitation I found online for the design inspiration… I am sorry but I don't know where the original picture came from… But isn't that a great idea for a friend who's getting married… using their wedding invitation as the inspiration?!)
For a gift with extra feeling, add a personal message or favorite quote. I love these personalized frames from Etsy:
What will you need to get started?
unfinished, wooden piece you want to work on
acrylic paint
paintbrushes (thick one for the base color and a slender one for details)
varnish
rhinestones, beads, sequins, ribbons, for extra bling!
Have a great time! The bride and groom are sure to love it!