Crafty brides and brides on budgets will love these lovely yet surprisingly simple ways to dress up your wedding. Follow the instructions or just use the ideas as a springboard for your own creativity. Sometimes it's the small things that make a big impact!
*
*
*
All photos and ideas from Martha Stewart Weddings.
*
*

*

Escort-Card Posies: All you need are fabric flowers, map pins, and glue to bring your seating assignments into bloom. Would look great with little multicolored fall leaves, too!  Click here for the  How-To!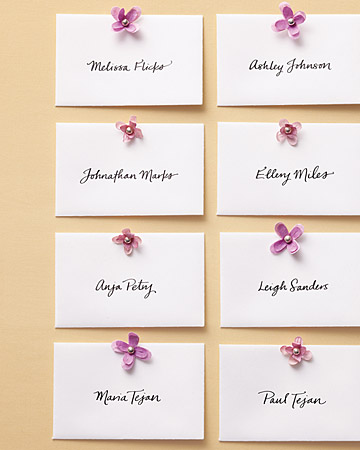 Blossoming Backdrop: A string of white lights, vellum and card stock, hole punches, and glue!  Click here for the How-To!
Paper Links:Vellum and double sided tape make paper chains chic! Mix-n-match colors to get the perfect look. Click here for the How-To (as if you really need it!)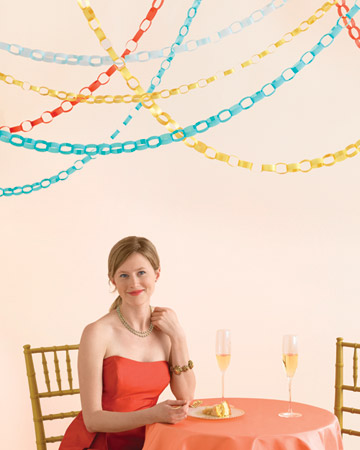 Wooden Seating Cards: Paper-thin wood veneer, craft punches, and calligraphy pens make these distintive place cards! Get the How-To Here!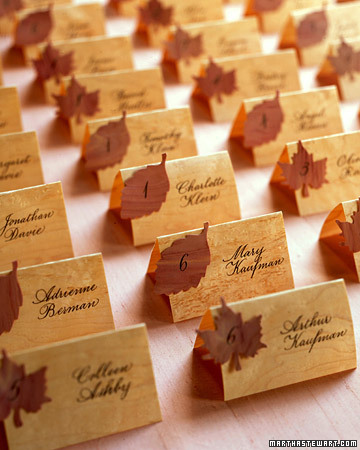 Flower Girl Cardigan: Sequins and fabric glue make it fun!  Works wonders for all sorts of other things too, including shoes, sashes, bouquets, headbands, and favors.
Poster Guest Book: Instead of having your loved ones write messages in a book, put out a poster on which they can sign their names. You can download the editable (and free!) clip art here, send the file to a printer, and it's done! Or put together your own poster using stencils, paint, ribbon, and anything else you fancy! Get the How-To here!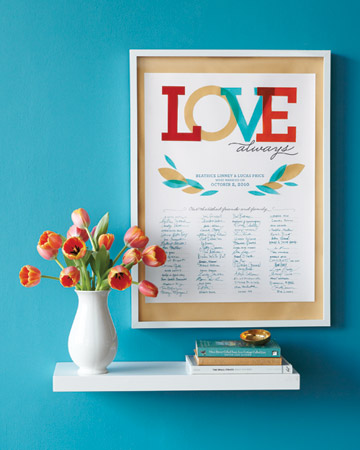 Seasonal Fruit Favor: You'll need fruit, tissue paper, and rubber stamps for this one! For personalized stamps, have an office-supply store make a rubber stamp with your names, wedding date, and  illustration. Get the How-To here!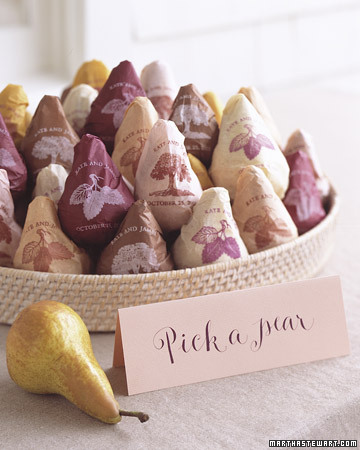 Harvest Wedding Centerpieces: The beauty of these is that they can be made weeks in advance!  Wheat, grains, and other dried grasses (available at crafts stores), tied with a luxurious satin bow. Get the how-to here!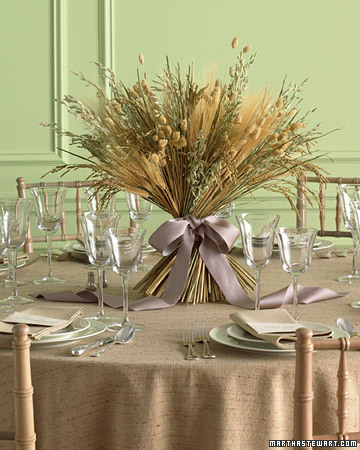 Mini Candied Apples: For these dainty nibbles, embellish candied apples with a paper leaf. You'll need a leaf-shaped craft punch, glue, and short skewers. You can hand-write, stamp, or print "Enjoy" on each leaf. Get the Candy Apple recipe here!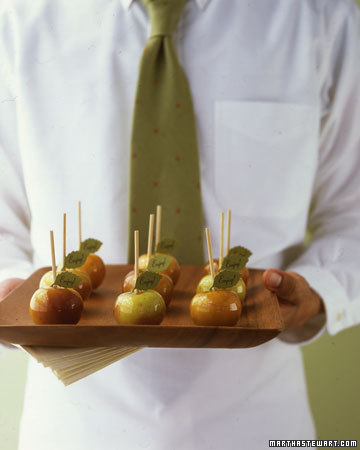 Flower Girl Basket: For this charming look, get yourself a pretty basket, some cotton fabric, silk ribbon, and leaves. You can order pressed leaves if you don't have any real ones in your area! Get the how-to here!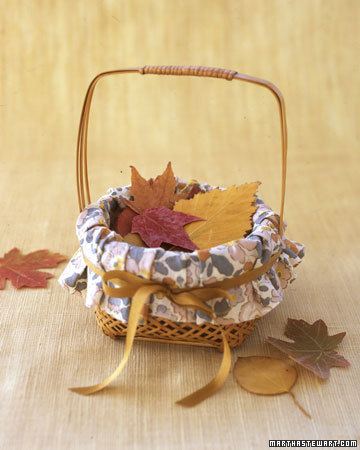 Fall Wedding Boutonnieres: Incorporate the shades and symbols of autumn into festive boutonnieres. Get the How-to here!