If you are getting married around the holiday season, you may be thinking about incorporating traditional holiday decor into your wedding theme. The colors are easy: Snowy white, deep red, forest green, and tinselly silver. But other elements of the decor can be decided based on asking yourself this question: When you think of Christmas or the holiday season, what is the first thing that comes to mind? BellaOnline suggests using your feelings and memories of this season to plan a warm and inviting wedding.
feature photo from squidoo.com
Decorate using poinsettia, holly, mistletoe, wreathes, garlands, bells, strings of lights, and of course, red and green flowers. A white dress can be made extra festive trimmed in fur, velvet, or silver-colored accents. And the bridal party can be dressed in colors of the season too, such as silver, crimson, or green.
photos above from squidoo.com
Holiday-themed wedding favors can be really fun and unique.  BellaOnline suggests including a holiday ornament, tea lights, CDs of your favorite holiday songs or carols sung by celebrities, small picture frames for thier favorite holiday photos, miniature pumpkin pie, or personalized tins of hot cocoa, coffee, or cookies.
The photos below from Brides.com create maximum impact by keeping the colors clean, simple, and seasonal.  Shiny ornaments and other trinkets infuse the decor with additional holiday cheer.  Note how the tables are "wrapped" in bright red ribbon to echo all those pretty packages you'd find under your tree!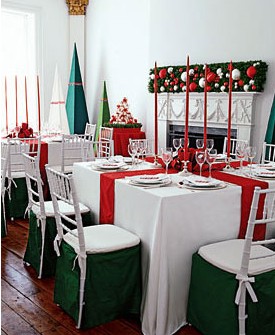 Here, the chairs at the Head Table are trimmed with ornaments and mini bouquets.
Make guests merry with crimson-and-peppermint martinis…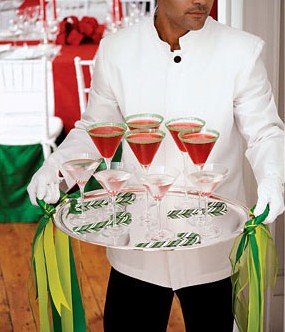 …and brighten their spirits with a sumptuous cake designed to mimic a pile of gift boxes!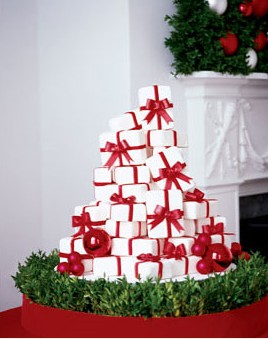 If you are having a lot of children at your wedding, how about this idea from Dana at iVillage? "For a very special touch, we've invited Santa Claus to hand out gifts to all of [the kids]. We're going to get some special photos taken with Santa and us with all of the kids. It should be great fun!"